01.12.2017 | Research article | Ausgabe 1/2017 Open Access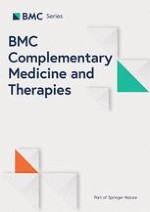 Danshen extract circumvents drug resistance and represses cell growth in human oral cancer cells
Zeitschrift:
Autoren:

Cheng-Yu Yang, Cheng-Chih Hsieh, Chih-Kung Lin, Chun-Shu Lin, Bo Peng, Gu-Jiun Lin, Huey-Kang Sytwu, Wen-Liang Chang, Yuan-Wu Chen
Abstract
Background
Danshen is a common traditional Chinese medicine used to treat neoplastic and chronic inflammatory diseases in China. However, the effects of Danshen on human oral cancer cells remain relatively unknown. This study investigated the antiproliferative effects of a Danshen extract on human oral cancer SAS, SCC25, OEC-M1, and KB drug-resistant cell lines and elucidated the possible underlying mechanism.
Methods
We investigated the anticancer potential of the Danshen extract in human oral cancer cell lines and an in vivo oral cancer xenograft mouse model. The expression of apoptosis-related molecules was evaluated through Western blotting, and the concentration of in vivo apoptotic markers was measured using immunohistochemical staining. The antitumor effects of 5-fluorouracil and the Danshen extract were compared.
Results
Cell proliferation assays revealed that the Danshen extract strongly inhibited oral cancer cell proliferation. Cell morphology studies revealed that the Danshen extract inhibited the growth of SAS, SCC25, and OEC-M1 cells by inducing apoptosis. The Flow cytometric analysis indicated that the Danshen extract induced cell cycle G0/G1 arrest. Immunoblotting analysis for the expression of active caspase-3 and X-linked inhibitor of apoptosis protein indicated that Danshen extract-induced apoptosis in human oral cancer SAS cells was mediated through the caspase pathway. Moreover, the Danshen extract significantly inhibited growth in the SAS xenograft mouse model. Furthermore, the Danshen extract circumvented drug resistance in KB drug-resistant oral cancer cells.
Conclusion
The study results suggest that the Danshen extract could be a potential anticancer agent in oral cancer treatment.