01.12.2011 | Case report | Ausgabe 1/2011 Open Access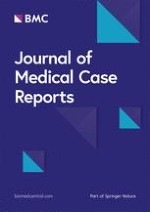 Dapsone-induced agranulocytosis leading to perianal abscess and death: a case report
Zeitschrift:
Autoren:

Yoshiro Kobe, Daisuke Setoguchi, Nobuya Kitamura
Wichtige Hinweise
Electronic supplementary material
The online version of this article (doi:
10.​1186/​1752-1947-5-107
) contains supplementary material, which is available to authorized users.
Competing interests
The authors declare that they have no competing interests.
Authors' contributions
YK wrote the case report, conducted the literature search and obtained the consent. DS contributed to the discussion. NK supervised and edited the case report. All authors were involved with treatment of this patient and all read and approved the final manuscript.
Introduction
Dapsone (diaminodiphenylsulfone) has been used for treating intractable skin diseases such as leprosy and dermatitis herpetiformis. The side effects associated with the use of Dapsone include hemolytic anemia, methemoglobinemia, and agranulocytosis [
1
]. Agranulocytosis is a rare condition; however, it can become a life-threatening illness if sepsis develops.
We report a case of agranulocytosis as a side effect of Dapsone, which was administered to a patient for treating linear IgA bullous dermatosis (LABD). Agranulocytosis-induced septic shock and perianal abscess occurred, and the patient died from sepsis and multiple organ failure.
Case presentation
An 82-year-old Japanese woman was transferred to our emergency room with respiratory arrest and leukocytopenia. She had previously been admitted to a hospital with high fever (38 to 40°C) and was treated with antibiotics for six days before being admitted to our hospital. She had diabetes mellitus, hyperlipidemia, and hypertension, and she took prednisolone (15 mg/day) and Dapsone (75 mg/day for seven days and 100 mg/day for about six weeks) for LABD. Her physical examination, which was conducted at our hospital, revealed the following: cold clammy skin; no jugular venous distention; no edema; no apparent skin lesions, which suggested good response for LABD with Dapsone; nonresponsiveness despite her eyes being open (Glasgow Coma Scale score of 10, E4 V1 M5). Her blood pressure was 100/54 mm Hg; pulse rate, irregular and tachycardia (150 beats/minute); respiratory rate, 14 beats/minute; SpO2, 89% (pulse oximetry, 6 L/minute O2 under intubation); and body temperature, 38.3°C. No rales were heard on auscultation.
The initial laboratory tests (Table
1
) revealed a white blood cell count of 400/μL (reference range: 4000 to 10,000 cells/μL); neutrophil count, 8 cells/μL (reference range: 2000 to 7000 cells/μL); hemoglobin, 7.6 g/dL (reference range: 12.0 to 16.0 g/dL) and platelet count, 183 × 10
3
/μL (reference range: 140 to 450 × 10
3
/μL). The results of coagulation studies were normal. Serum chemistry showed elevated total bilirubin level, 3.0 mg/dL (reference range: 0.2 to 1.2 mg/dL); glucose, 306 mg/dL (reference range: 70 to 110 mg/dL) and C-reactive protein (CRP), 21.6 mg/dL (reference range: below 0.3 mg/dL). The low level of hemoglobin and high level of bilirubin were indicative of hemolytic anemia, whereas no hemolysis was shown in peripheral smear. Further, the results of arterial blood gas (ABG) analysis, under supplementation of 100% O
2
, revealed the following: pH, 7.51; pCO
2
, 30 mm Hg; pO
2
, 415 mm Hg; base excess, 1.0 mmol/L; lactate, 2.2 mmol/L (reference range: below 1.3 mmol/L) and Methemoglobin, 9.0% (reference range: below 3.0%).
Table 1
Laboratory investigations on admission to Kimitsu Chuo Hospital Intensive Care Unit
Complete blood count

Arterial blood gas (FIO2 1.0)

WBC

0.4 × 103/μL

pH

7.51

RBC

2.25 × 106/μL

pCO2

30 mmHg

Hgb

7.6 g/dL

pO2

415 mmHg

Hct

22.8%

HCO3

25.8 mmol/L

Plt

183 × 103/μL

BE

1.0 mmol/L

Reticulo

27.8%

Lactate

2.2 mmol/L

Met Hgb

9.0%

Rapid Urinary Antigen Detection Kit

PT INR

1.19

negative

aPTT

26.9 s

negative

Alb

2.1 g/dL

Na

129 mEq/L

AST

17 IU/L

K

4.4 mEq/L

ALT

22 IU/L

Cl

96 mEq/L

LDH

247 IU/L

BUN

18.7 mg/dL

T-bil

3.0 mg/dL

Cre

0.55 mg/dL
Computed tomography (CT) scans of the head revealed no intracranial abnormalities. Chest X-ray images revealed no infiltration. An electrocardiography (ECG) scan revealed tachycardia (152/minute) with atrial fibrillation. Cultures of blood, sputum, and urine samples collected at the time of admission were negative for fungal or bacterial growth.
Streptococcus pneumoniae
and
Legionella
were found to be absent in the urine samples with the rapid urinary antigen detection kit. Cerebrospinal fluid from a lumbar puncture was negative for bacteria and fungi.
Although the cause of agranulocytosis was initially unknown, we later found that the patient was taking Dapsone for LABD. On the basis of this finding, we deduced that the agranulocytosis was induced by Dapsone, which also induced hemolytic anemia and methemoglobinemia, and that agranulocytosis was responsible for her septic shock. She was subsequently admitted to the intensive care unit (ICU) and received mechanical ventilation. Meropenem and fosfluconazole were administered intravenously. The levels of methemoglobinemia decreased to 3% because Dapsone was discontinued; therefore, no treatment for methemoglobinemia was required. On Day 1 after being admitted to our hospital, her leukocyte count was lower than 400/μL; however, after granulocyte-colony stimulating factor (G-CSF) treatment was initiated, the leukocyte count increased to 6100/μL on Day 13. Mechanical ventilation was discontinued on Day 10 because of stabilization of her circulatory and respiratory status. However, on Day 13 gradual exacerbation of pneumonia caused her reintubation and initiation of mechanical ventilation and tracheostomy was performed on Day 15. Postsacral erosion and induration appeared on Day 18. On the same day, her body temperature was >39°C and atrial fibrillation occurred (heart rate, >150/minute). Laboratory tests revealed a white blood cell count of 26,000/μL and CRP level of 13 to 16 mg/dL. This was indicative of persistent inflammation. The postsacral region was incised, and her decubitus ulcers were drained because exudates with the smell of feces were discharged from the postsacral region. The region was necrotized to a depth of 5 cm, and the drainage materials were found to be feces (Figure
1
). A contrast fistulogram revealed the presence of a fistula joining the rectum to the postsacral region (Figure
2
). Inflammation was persistent, and her body temperature increased to 39°C on Day 30 despite repeated, almost daily, lavage, debridement, and administration of sulfadiazine silver for the fistula. Linezolid was administered intravenously for suspected sepsis caused by methicillin-resistant
Staphylococcus aureus
(MRSA). MRSA was later identified in blood and central venous catheter tip cultures. The blood culture was persistently positive for
Stenotrophomonas maltophilia
after Day 37, and she developed septic shock once again along with renal failure. Her general status temporarily improved with continuous hemodiafiltration (CHDF) and administration of catecholamines. Although colostomy was performed on Day 55, she died on Day 80 because of persistent shock and gastrointestinal hemorrhage (Figure
3
).
×
×
×
Discussion
Conclusion
We report the case of a patient with Dapsone-induced agranulocytosis that progressed to septic shock. She temporarily recovered from septic shock but eventually died when the infection could not be controlled. Incisional drainage was performed for anal fistula, which developed from a decubitus ulcer in the sacral region. Agranulocytosis is one of the side effects of Dapsone; therefore, it should be administered with care. Further, for patients with agranulocytosis, if a decubitus ulcer is found in the sacral region, it should be monitored carefully because it may develop into fistula-in-ano.
Consent
Written informed consent was obtained from the patient's daughter for publication of this case report and accompanying images. A copy of the written consent is available for review by the Editor-in-Chief of this journal.
This article is published under license to BioMed Central Ltd. This is an Open Access article distributed under the terms of the Creative Commons Attribution License (
http://​creativecommons.​org/​licenses/​by/​2.​0
), which permits unrestricted use, distribution, and reproduction in any medium, provided the original work is properly cited.
Competing interests
The authors declare that they have no competing interests.
Authors' contributions
YK wrote the case report, conducted the literature search and obtained the consent. DS contributed to the discussion. NK supervised and edited the case report. All authors were involved with treatment of this patient and all read and approved the final manuscript.