30.10.2017 | FORTBILDUNG . ÜBERSICHT | Sonderheft 3/2017
Dauerhafte Heilung bei vielen Patienten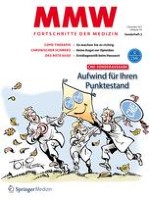 Das ist neu in der Therapie der Hepatitis C
Zeitschrift:
Autoren:

Prof. Dr. med. Nektarios Dikopoulos, Dr. med. Johanna Backhus, Prof. Dr. med. Dr. phil. Matthias Dollinger
Zum Fragebogen im Kurs
Wichtige Hinweise
This article is part of a supplement not sponsored by the industry.
INTERESSENKONFLIKTE
Die Autoren erklären, dass sie sich bei der Erstellung des Beitrages von keinen wirtschaftlichen Interessen leiten ließen. Sie legen folgende potenzielle Interessenkonflikte offen: Frau Dr. Backhus: Vortragshonorar der Firma Gilead; Prof. Dikopoulos: Vortragshonorare der Firmen Gilead, AbbVie und MSD. Prof. Dollinger: Vortrags- und Beratertätigkeit sowie Studiendurchführung für die Firmen Gilead, AbbVie, Merck, BMS und Janssen.
Der Verlag erklärt, dass die inhaltliche Qualität des Beitrags von zwei unabhängigen Gutachtern geprüft wurde. Werbung in dieser Zeitschriftenausgabe hat keinen Bezug zur CME-Fortbildung. Der Verlag garantiert, dass die CME-Fortbildung sowie die CME-Fragen frei sind von werblichen Aussagen und keinerlei Produktempfehlungen enthalten. Dies gilt insbesondere für Präparate, die zur Therapie des dargestellten Krankheitsbildes geeignet sind.
Zusammenfassung
Die Einführung der neuen direkt antiviral wirksamen Medikamente hat die Therapie der chronischen Hepatitis C revolutioniert. Dank dieser Entwicklung sind wir heute in der Lage, den überwiegenden Teil unserer Hepatitis-C-Patienten dauerhaft zu heilen. Für die tägliche Praxis ist daher eine gezielte Diagnostik bezüglich einer Hepatitis C von großer Bedeutung, um infizierte Patienten identifizieren und behandeln zu können.