01.12.2017 | Research | Ausgabe 1/2017 Open Access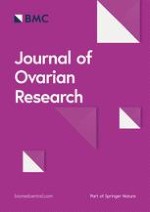 Dasatinib + Gefitinib, a non platinum-based combination with enhanced growth inhibitory, anti-migratory and anti-invasive potency against human ovarian cancer cells
Zeitschrift:
Autoren:

Benoît Thibault, Bertrand Jean-Claude
Wichtige Hinweise
Electronic supplementary material
The online version of this article (doi:
10.​1186/​s13048-017-0319-2
) contains supplementary material, which is available to authorized users.
Abstract
Background
Ovarian cancer is the leading cause of death for gynecological cancers and the 6th cause of women cancer death in developed countries. The late stage detection, the peritoneal dissemination and the acquisition of resistance against carboplatin are the main reasons to explain this poor prognosis and strengthen the need of alternative treatments to improve the management of ovarian cancer and/or to sensitize tumors to platinum salts. Epidermal growth factor receptor (EGFR), hepatocyte growth factor receptor (Met) and cellular Src kinase (c-Src) are crucial kinases implied in ovarian tumor growth, survival, invasion and resistance to carboplatin. Their expression is increased in advanced ovarian cancers and is correlated with poor prognosis. Despite a clear potential in inhibiting these proteins in ovarian cancer, as a single agent or in combination with a carboplatin treatment, we need to target kinases in tandem because of their capacity to trigger compensatory pathways that synergize to promote drug resistance.
Methods
Here we target EGFR, c-Src and Met individually or in combination with carboplatin, using Gefitinib, Dasatinib and Crizotinib respectively, in a panel of carboplatin-sensitive (OVCAR-3, IGROV-1 and A2780) and carboplatin-resistant cells (SKOV-3 and EFO-21). We studied the ability of the most potent combination to induce apoptosis, regulate migration, invasion and to modulate the activation of proliferation and survival proteins.
Results
Crizotinib, Dasatinib and Gefitinib, alone or in combination with carboplatin, showed a cell-specific cytotoxic synergy in ovarian cancer cells. The Dasatinib plus Gefitinib combination was synergistic in OVCAR-3, SKOV-3 and, in IGROV-1 cells (high concentrations). This combination was unable to induce apoptosis but suppressed cell migration, invasion and the activation of EGFR, Erk, c-Src and Akt compared to single treatments.
Conclusions
Combining carboplatin with kinase inhibitors lead to synergistic interactions in a cell-specific manner. Unlike platinum-based combinations, mixing Dasatinib with Gefitinib led to cytotoxic activity, inhibition of cell migration and invasion. Thus, the Dasatinib + Gefitinib combination presents anti-tumour properties that are superior to those of platinum-based combinations, indicating that it may well represent a promising new treatment modality to be tested in the clinic.