01.12.2017 | Research | Ausgabe 1/2017 Open Access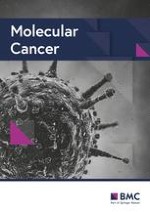 Dclk1, a tumor stem cell marker, regulates pro-survival signaling and self-renewal of intestinal tumor cells
Zeitschrift:
Autoren:

Parthasarathy Chandrakesan, Jiannan Yao, Dongfeng Qu, Randal May, Nathaniel Weygant, Yang Ge, Naushad Ali, Sripathi M. Sureban, Modhi Gude, Kenneth Vega, Eddie Bannerman-Menson, Lijun Xia, Michael Bronze, Guangyu An, Courtney W. Houchen
Wichtige Hinweise
Electronic supplementary material
The online version of this article (doi:
10.​1186/​s12943-017-0594-y
) contains supplementary material, which is available to authorized users.
Abbreviations
Apc
Adenomatous polyposis coli
ATCC
American type culture collection
Dclk1
Doublecortin-like kinase1
EMT
Epithelial mesenchymal transition
FAP
Familial adenomatous polyposis
IECs
Intestinal epithelial cells
PLGA
Poly(lactide-co-glycolide acid)
siScr-NPs
Si-Scramble-Nanoparticles
Background
Methods
TCGA Colon Adenocarcinoma (COAD) Data
The RNA-seq datasets from February 2015 combining data from 329 patients with colon adenocarcinomas included in the Cancer Genome Atlas (TCGA) dataset were downloaded through the UCSC cancer genome browser (
https://​www.​xenabrowser.​net
), as previously described [
28
].
Determination of DCLK1-correlated pro-survival signaling in
APC

mutant COAD

APC

mutant/

APC

non-mutant samples and samples with high/low DCLK1 expression levels were sorted by R v3.2. Patients whose DCLK1 expression levels was in the top 25% or bottom 25% were considered DCLK1-high or DCLK1-low, respectively. The corrplot function (R package corrplot) was used to confirm the correlation between the expression levels of DCLK1 and other genes. A heatmap was produced using the heatmap.2 function (R package gplots) [

28

].
DCLK1 network with pro-survival signaling utilizing the GeneMANIA database
Datasets, including physical interactions, pathway, and genetic interactions, were collected from the public domain GeneMANIA database. The dataset relevant to DCLK1 and the pro-survival signaling network was produced from the GeneMANIA database (
http://​www.​genemania.​org
).
Animals
All animal experiments were performed with approval and authorization from the Institutional Review Board and the Institutional Animal Care and Use Committee at the University of Oklahoma Health Sciences Center (Oklahoma City, Oklahoma).
Apc
Min/+
mice on the C57BL/6 J background were obtained from The Jackson Laboratory and were maintained by breeding
Apc
Min/+
males to C57BL/6 J females. Mice were genotyped with a PCR assay to identify carriers of the
Min
allele of
Apc
. Same sex (male) C57BL/6 J
Apc
Min/+
and
Apc
+/+
littermates at 30 week of age were used in the present study. The average life span of
Apc
Min/+
mice on the C57BL/6 J background is ∼ 20 weeks, although the mice in our facility have healthier survival, as observed in several previous studies [
5
–
8
].
Apc
Min/+
mice (i.e., >30 weeks of age) were carefully monitored and sacrificed before becoming moribund.
Intestinal Epithelial Cell (IEC) Isolation
Small intestines (ileum) were attached to a paddle, were immersed in Ca
2+
-free standard Krebs-buffered saline (in mmol/l: 107 NaCl, 4.5 KCl, 0.2 NaH
2
PO
4
, 1.8 Na
2
HPO
4
, 10 glucose, and 10 EDTA) at 37 °C for 15–20 min, and were gassed with 5% CO
2
, 95% O
2
. Individual crypt units were then separated by intermittent (30 s) vibration into ice-cold phosphate buffered saline and were collected by centrifugation [
18
,
29
–
31
]. We utilized the whole intestinal epithelilal cells.
FACS
Freshly isolated IECs were washed and resuspended in RPMI glutamax medium. To avoid endothelial and stromal contamination, isolated cells were incubated with anti-CD45, anti-CD31, anti-EpCAM, and anti-Dclk1 antibodies conjugated with the respective fluorochromes for 30 min. The cells were washed and sorted using an Influx-V cell sorter (Cytopeia). CD45
−
CD31
−
EpCAM
+
Dclk1
+
cells were collected and then subjected to enterosphere formation assays [
18
,
30
].
Clonogenic assay
FACs isolated Dclk1
+
IECs were plated in 48-well plates at a density of 100 cells per well in RPMI medium containing 0.3% soft agar. The cell suspensions were plated in a 48-well plate above a layer of solidified 1% soft agar in plain RPMI medium. The plates were incubated at 37 °C under 5% CO
2
. The cells were followed for enterosphere/enteroid formation, as described previously [
18
,
30
,
31
].
RNA isolation and real-time RT-PCR analysis
Total RNA isolated from small intestinal epithelial cells was subjected to reverse transcription. The complementary DNA (cDNA) was subsequently used to perform real-time PCR with SYBR™ chemistry (Molecular Probes, Eugene, OR) using gene-specific primers for specific transcripts. The crossing threshold value assessed by real-time PCR was noted for the transcripts and normalized to β-actin.
Immunoblot analysis
Twenty-five micrograms of the total protein was size-separated in a 4–12% SDS polyacrylamide gel and transferred electrophoretically onto a PVDF membrane with a wet-blot transfer apparatus (Bio-Rad, Hercules, CA). The membrane was blocked and incubated overnight with a primary antibody and was subsequently incubated with horseradish peroxidase-conjugated secondary antibody. The proteins were detected using ECL Western blotting detection reagents (Amersham-Pharmacia, Piscataway, NJ). Actin (42-kD) was used as a loading control.
Small interfering RNAs
The Dclk1 siRNA (siDclk1; Cat. # S234357) sequence targeting the coding region of Dclk1 (accession No. NM_019978) and scrambled siRNAs (siScr; Cat. # AM4636) not matching any of the mouse genes were obtained (Ambion Inc., Austin, TX, USA). DCLK siRNA (h) (# SC45618), RELA siRNA (h) (#SC29410) and NOTCH1 siRNA (h) (#SC36095) were obtained from Santa Cruz Biotechnology (SCBT, TX, USA).
Synthesis and characterization of Dclk1 siRNA NPs and treatment
Poly(lactide-
co
-glycolide acid nanoparticles (PLGA NPs) were synthesized using a double emulsion solvent evaporation technique, as described previously [
18
,
20
]. The amount of encapsulated siRNA was quantified using a spectrophotometer (DU-800, Beckman Coulter, Brea, CA). The size, polydispersity index, and zeta-potential measurements of synthesized siRNA NPs were determined using diffraction light scattering (DLS) utilizing Zeta PALS (Brookhaven Instruments, Holtsville, NY). Sex- and age-matched littermates of C57BL/6 J
Apc
Min/+
mice were injected i.p. with 0.25 nmol of siRNA preparation on every third day for a total of six doses.
Immunohistochemistry/immunofluorescence
Antibodies
We used the following antibodies: Dclk1, Lgr5, Bmi1, Hes1, Tcf4, Cox1, Cox2, EpCam, CD45, CD31 (all from Abcam, Cambridge, MA), CXCL1, CyclinD1, cMYC, β − catenin (Santa Cruz Biotechnology, USA), Notch1, NfkB-p65, CyclinD1, Ras, β-actin (Cell Signaling, Danvers, MA, USA), anti-rabbit IgG, anti-mouse IgG, anti-goat IgG (Jackson ImmunoResearch, West Grove, PA, USA), Alexa Fluor® 488 donkey anti-rabbit IgG, and Alexa Fluor® 568 donkey anti-goat IgG (Invitrogen, USA).
siRNA-mediated knockdown of DCLK1
HT-29 and DLD1 human colon cancer cells were purchased from the American Type Culture Collection (ATCC) and were maintained in DMEM medium containing 10% fetal bovine serum (FBS). For siRNA-mediated knockdown studies, cells were seeded into 6-cm petri dishes and were allowed to attach overnight. After attachment, 25 nM of commercially validated siRNA targeting human DCLK1 or NOTCH1 or RELA (siRNA; Santa Cruz Biotechnology) or 25 nM human scrambled sequence (siSCR) not targeting any known genes were complexed with Lipofectamine 3000 (Invitrogen) and added to the dishes in fresh cell culture medium. After 48 h of treatment, cells were collected for migration, invasion, colony formation, and self-renewal (clonogenic) analysis.
Migration and invasion assay
For the invasion assay, matrigel-coated Transwells (BD Biosciences) were prepared by retrieving in serum-free media for 2 h at 37 °C. For the migration assay, Transwells (BD Biosciences) were also used. Subsequently, HT-29 and DLD1 cells (5000/well) pre-transfected with either 25 nM siRNA or siSCR for 48 h were seeded into each Transwell in triplicate in serum-free media. Cell culture medium containing 10% FBS was added to the bottom of each well as chemoattractant, and the cells were incubated for 24 h at 37 °C under 5% CO 2. Afterwards, a cotton swab was used to scrape non-invasive/migratory cells off the top of Transwells; the remaining cells were fixed with 100% methanol, stained with 0.1% crystal violet, and allowed to dry. After drying, all invading cells were counted from each Transwell. Results are reported as the number of cells invaded and/or migrated.
Colony formation assay
HT-29 and DLD1 were transiently transfected with si-DCLK1, siNFkB-p65, and si-NOTCH1 (from Santa Cruz Biotechnology), along with scramble siRNA. After 48 h, cells were seeded and passaged into new 6-well plates (100 cells/well). Cells were allowed to grow for one week, then were fixed with glacial acetic acid/methanol solution (1:3) and washed with PBS. Colonies were stained with 0.5% Crystal violet for 10 min and were washed with tap water to remove excess stain. Colonies were then counted under a stereomicroscope using a 1-cm 2 grid. Four squares from four quadrants were counted for each well.
Statistical analysis
Statistical analyses were conducted using GraphPad Prism 6.00 (GraphPad Software, La Jolla) and R system v3.2 for statistical computing. Pearson product–moment correlation was used for analysis and correlation of gene expressions between two groups. Colon cancer recurrence-free survival analysis was performed using Kaplan Meier Survival analyses.
P
values of <0.05 = *, <0.01 = **, and 0.001 = *** were considered statistically significant.
Results
Discussion
Our previous studies demonstrated that Dclk1 overexpression is correlated with intestinal cancer progression and that silencing Dclk1 decreased the number and size of polyps, adenoma, and adenocarcinoma, suggesting that Dclk1 plays an important active role in intestinal tumorigenesis [
18
,
28
,
39
,
40
]. Tumor cell self-renewal and survival ability are the key features in tumorigenesis, for tumor progression [
33
]. Pro-survival signaling pathways, most notably the ß-catenin, Notch, and NFkB pathways, coordinately regulate tumor cell survival and self-renewal [
34
–
36
]. However, whether Dclk1 regulates intestinal tumor cell survival and self-renewal for tumorigenesis through pro-survival signaling pathways is largely unknown. In the present study, we used
Apc
Min/+
mice, an excellent model to evaluate human FAP and sporadic colorectal cancer [
1
,
2
,
7
]. Consistent with our previous studies, we found increased expression of Dclk1 in the IECs of
Apc
Min/+
mice, which exhibit high-grade dysplasia and adenocarcinoma [
12
,
18
,
20
]. It has been suggested that stem-like cells or stem cells are more abundant in cancerous conditions, and that the loss of
Apc
function increases the expansion of the tumor stem cell (TSC) compartment [
3
,
41
]. Loss of
Apc
function significantly increased the expression of tumor stem cell markers Dclk1, Lgr5, Bmi1, and Musashi in the IECs. However, how loss of
Apc
selects the cell type or stem cell type in the process of tumorigenesis is yet to be identified.
Apc
regulates the
Wnt
signaling, which is critical for the maintenance of Lgr5+ stem cells and initiation and progression of cancer [
3
]. It is recently reported that Lgr5
+
stem cells give rise to Dclk1
+
cells in the intestinal epithelium [
13
]. Therefore, we suggest that the loss of
Apc
may induce the specific expansion of Lgr5
+
cells derived Dclk1
+
cells for intestinal tumorigenesis. However, the expansion of other stem cells and the specific expansion of Dclk1
+
cells need to be investigated in future. We also observed enhanced self-renewal ability of Dclk1
+
cells isolated from the intestines of
Apc
Min/+
mice.
Cellular pro-survival signaling pathways are interconnected, complex signaling networks, and their upregulation is well illustrated in cancers [
42
]. The aberrant upregulation or constitutive activation of multiple survival-signaling pathways in cancer cells promotes proliferation and stemness, inhibits apoptosis, and increases survival and the ability to invade and migrate into surrounding tissues and metastasize to distant sites [
42
,
43
]. We found here that the ß-catenin, Notch, and NFkB pro-survival signaling pathways are upregulated in the isolated IECs of
Apc
Min/+
mice. We further determined that Dclk1
+
cells of
Apc
Min/+
mice display enhanced pro-survival signaling pathways, compared with Dclk1
−
cells. These findings suggest that the enhanced pro-survival signaling pathways could be a vital factor for tumor progression by regulating tumor stem cells and/or tumor cell stemness. Several studies have indicated that Dclk1 promotes the multistep process of cancer formation and progression [
13
,
18
,
31
,
40
,
44
–
46
]. It has been suggested that Dclk1 can regulate pluripotency factors, miRNAs, and signaling pathways, including NOTCH and Runx2, in cancer and non-cancer cells [
46
–
48
]. In the present study, we witnessed a similar phenomenon; the pro-survival signaling pathways were upregulated in the IECs of
Apc
Min/+
mice, in which Dclk1 expression is higher than in controls. We observed that silencing Dclk1 reduced the pro-survival signaling pathways in the IECs of
Apc
Min/+
mice. We have previously demonstrated that downregulation of DCLK1 can up-regulate critical miRNAs in both in vitro and in vivo cancer models and resulted in decreased pro-survival signaling and EMT-related transcription factors [
13
,
20
,
44
,
47
]. Indeed, the enterospheres formed from the isolated Dclk1
+
cells of
Apc
Min/+
mice treated with si-Dclk1-NPs display reduced pro-survival signaling pathways, which may be the reason for reduced self-renewal and tumor stem cells.
We further investigated the connection between pro-survival signaling pathways and Dclk1 expression in the
Apc
Min/+
mice with high-grade dysplasia and intramucosal adenocarcinoma. We observed that inhibition of NOTCH and RELA reduced the colon cancer cell lines DLD1 and HT29 self-renewal ability, survival/viability, and invasion/migration in vitro. However, DCLK1 knockdown is highly effective at inhibiting the self-renewal, colony formation, and invasion/migration of colon cancer cells than the NOTCH or RELA inhibition in vitro. Furthermore, DCLK1 knockdown decreased the expression of NOTCH, RELA and MAPK in colon cancer cells, suggesting that DCLK1 may act as a master regulator for multiple pro-survival signaling pathways, which could explain why any individual knockdown of pro-survival signaling is less effective than DCLK1 knockdown in inhibiting cancer cells' self-renewal and progression. Our findings suggest that Dclk1 can regulate multiple signaling pathways for cancer formation and progression. However, the exact regulation mechanism of Dclk1 requires further clarification.
Conclusions
In conclusion, we found that Dclk1 was enhanced in
Apc
mutant intestinal tumors, and elevated tumor stemness and survival by regulating the pro-survival signaling pathways. We also determined that Dclk1 knockdown reduced tumor stemness, polyps, adenoma, and adenocarcinoma by inhibiting pro-survival signaling and suppressing their downstream oncogenes. Together, these results suggest that Dclk1, a tumor stem cell marker, may be a potential therapeutic target for colon cancer therapy.
Acknowledgements
Authors thank Ms. Kathy Kyler, Staff Editor, OUHSC, for editing our manuscript.
Funding
This research was performed as a project of the Intestinal Stem Cell Consortium; a collaborative research project funded by the National Institute of Health (NIH U01 DK-085508 to CWH), and a VA Merit Award.
Availability of data and materials
The datasets analyzed during the current study are available from the corresponding author upon reasonable request.
Authors' contributions
P.C. was responsible for conception and design, collection and/or assembly of data, data analysis and interpretation, and manuscript writing; J.Y. performed data interpretation, database analysis; D.Q. and N.W. generated and maintained mouse models and analyzed the data; R.M. performed the IHC; Y.G. conducted data analysis and interpretation; N.A. analyzed data; S.S. analyzed data; M.G., E.B., L.X., and M.B. analyzed and evaluated protein and gene expression data; G.A. G.A. supervised dataset generation and data analysis; C.H. supervised the whole project, interpreted results, and assisted in writing the manuscript. All authors discussed results, analyzed data, and edited the manuscript. All authors read and approved the final manuscript.
Competing interests
Courtney Houchen and Eddie Bressenman are the founder and co-founder of COARE Biotechnology, Inc. The other authors declare no competing financial interests.
Consent for publication
Not applicable.
Ethics approval and consent to participate
All animal experiments were performed with the approval and authorization of the Institutional Review Board and the Institutional Animal Care and Use Committee, University of Oklahoma Health Sciences Center.
Open Access
This article is distributed under the terms of the Creative Commons Attribution 4.0 International License (
http://​creativecommons.​org/​licenses/​by/​4.​0/​
), which permits unrestricted use, distribution, and reproduction in any medium, provided you give appropriate credit to the original author(s) and the source, provide a link to the Creative Commons license, and indicate if changes were made. The Creative Commons Public Domain Dedication waiver (
http://​creativecommons.​org/​publicdomain/​zero/​1.​0/​
) applies to the data made available in this article, unless otherwise stated.