17.08.2017 | Original Article | Ausgabe 1/2018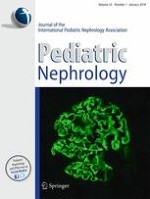 De novo weekly and biweekly darbepoetin alfa dosing in pediatric patients with chronic kidney disease
Zeitschrift:
Autoren:

Bradley A. Warady, John Barcia, Nadine Benador, Augustina Jankauskiene, Kurt Olson, Ludmila Podracka, Aleksey Shavkin, Poyyapakkam Srivaths, Cynthia J. Wong, Jeffrey Petersen
Abstract
Background
Darbepoetin alfa is a commonly prescribed erythropoiesis-stimulating agent (ESA) for correcting anemia in pediatric chronic kidney disease (CKD) patients. However, little information exists on its use in ESA-naïve patients. This study evaluated the efficacy and safety of darbepoetin alfa in pediatric patients initiating ESA therapy.
Methods
One-hundred sixteen pediatric ESA-naïve subjects (aged 1–18 years) with CKD stages 3–5D and hemoglobin (Hb) <10 g/dl from 43 centers in the US, Europe, and Mexico were randomized by age (three groups) and dialysis status (yes vs. no) to receive darbepoetin alfa once weekly (QW) or every 2 weeks (Q2W) subcutaneously (not on dialysis and peritoneal dialysis subjects) and intravenously (hemodialysis subjects). The drug was titrated to achieve Hb levels of 10.0–12.0 g/dl over 25 weeks. Patient- and parent-reported health-related outcomes were measured by the Pediatric Quality of Life Inventory (PedsQL™) in children ≥2 years.
Results
In both groups, mean Hb concentrations increased to ≥11.0 g/dl over the first 3 months of treatment and remained stable within the 10.0–12.0 g/dl target range. The median time to achieve hemoglobin ≥10 g/dl was slightly longer for subjects <12 years (QW and Q2W, both 28 days) vs. those ≥12 years (23 and 22 days, respectively). Adverse event profiles were similar between groups, with QW, four (7%) and Q2W, five (9%). PedsQL™ scores showed modest increases.
Conclusions
Darbepoetin alfa can be safely administered either QW or Q2W to ESA-naïve pediatric patients with CKD-related anemia to achieve Hb targets of 10.0–12.0 g/dl.