01.12.2021 | Research | Ausgabe 1/2021 Open Access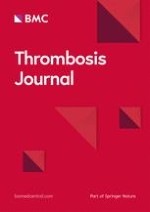 ADAMTS13 activity decreases in the early phase of trauma associated with coagulopathy and systemic inflammation: a prospective observational study
Zeitschrift:
Autoren:

Hironori Matsumoto, Jun Takeba, Kensuke Umakoshi, Satoshi Kikuchi, Muneaki Ohshita, Suguru Annen, Naoki Moriyama, Yuki Nakabayashi, Norio Sato, Mayuki Aibiki
Wichtige Hinweise
Publisher's Note
Springer Nature remains neutral with regard to jurisdictional claims in published maps and institutional affiliations.
Abstract
Background
We conducted a prospective observational study for investigating the changes in the 13th member of a disintegrin-like and metalloprotease with thrombospondin type 1 motif (ADAMTS13) and its association with the coagulofibrinolytic response in adult trauma patients.
Methods
In 39 trauma patients hospitalized for longer than 7 days, time-course changes in biomarkers of coagulofibrinolysis and systemic inflammation along with ADAMTS13 activity were examined. The patients were stratified into three groups based on ADAMTS13 activities on admission (day 0): normal group (≥70%), mildly decreased group (≥50 and < 70%) and moderately decreased group (< 50%).
Results
Among 39 patients with a median Injury Severity Score (ISS) of 20, 11 patients developed disseminated intravascular coagulation (DIC) and 16 patients required transfusion. Six of 39 patients (15.4%) showed moderate decreased ADAMTS13 activity to < 50%, and 20 patients (51.3%) showed mild drops (≥50 and < 70%). These changes in ADAMTS13 activity on day 0 were significantly correlated with changes in IL-6 and other coagulofibrinolytic markers such as platelet counts, prothrombin time and fibrin/fibrinogen degradation product (FDP). Antithrombin activity (AT) and serum albumin (Alb) level showed significantly positive linear correlations with ADAMTS13 activity (AT:
r
 = 0.513,
p
 < 0.001; Alb:
r
 = 0.647,
p
 < 0.001). Simple logistic regression analyses showed that ADAMTS13 activity, if less than 50%, was significantly correlated with the development of DIC (
OR
7.499, 95%
CI
1.121–49.242,
p
 = 0.038) and the need for transfusion of fresh frozen plasma (
OR
9.000, 95%
CI
1.327–61.025,
p
 = 0.028).
Conclusions
ADAMTS13 activity decreased even in the early phase of trauma, which was complicated by coagulopathy and systemic inflammation. Furthermore, the decrease in ADAMTS13 activity was correlated with DIC and plasma transfusion.