11.11.2020 | COVID-19 | Mini Review | Ausgabe 1/2021 Open Access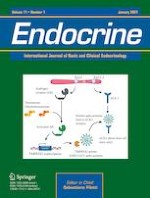 Sex differences in COVID-19: the role of androgens in disease severity and progression
Zeitschrift:
Autoren:

Mohamed S. Mohamed, Thiago C. Moulin, Helgi B. Schiöth
Wichtige Hinweise
Publisher's note
Springer Nature remains neutral with regard to jurisdictional claims in published maps and institutional affiliations.
Introduction
The novel coronavirus disease (COVID-19) caused by severe acute respiratory syndrome coronavirus 2 (SARS-COV2) has evolved into a global pandemic and has affected millions of people worldwide. Two notably consistent findings are the low rates of prepubertal mortality [
1
] and that men are more likely to have severe symptoms and therefore need hospitalization [
1
,
2
]. Moreover, sex differences in the prevalence of smoking, cardiovascular diseases, and drinking habits do not fully account for the higher risks for men [
2
]. Likewise, disparities between sexes have also been observed in the Middle East respiratory syndrome epidemic, where variation sex hormones were shown to rave a role in the disease susceptibility [
3
]. Androgens, such as testosterone and dihydrotestosterone, are steroid hormones produced in both sexes, and their levels increase with puberty. Androgens levels are higher in males than females and have been hypothesized to have a role in COVID-19 diseases [
2
,
4
]. The interest in the role of androgens increased after the uncovering of SARS-COV2 entry points [
5
]. Following that, studies have shown that androgens have a role in COVID-19 disease progression and that a considerable number of hospitalized patients have an underlying androgen-mediated condition [
6
,
7
]. In this review, we will look at how androgens facilitate SARS-COV2 entry, their role in disease progression, and their therapeutic value.
The role of androgens is mediated by TMPRSS2
The spike proteins of SARS-COV2 intermediate the entry to host cells by undergoing spike protein priming by the transmembrane protease serine 2 (TMPSS2) and by binding to Angiotensin-converting enzyme 2 (ACE2) receptors [
5
]. Data from prostate cancer research has demonstrated the androgen receptor as a regulator of TMPRSS2, capable of increasing the expression of this gene [
8
]. For example, the TMPRSS2 plays a role in the pathophysiology of prostate cancer by interacting with the oncogenic transcription factor ERG. The interaction between these genes juxtaposes the androgen receptor elements present in their code, causing the ERG gene to be also controlled by androgen receptor signalling [
9
]. The androgen-dependent nature is also evident outside of the prostate, as administering exogenous androgen treatment to a human lung adenocarcinoma-derived cell line is able to increase expression of TMPRSS2, mainly in the in type II pneumocytes [
10
].
Moreover, androgen deprivation therapy (ADT), a commonly-used treatment for prostate cancer patients, has been shown to lower TMPRSS2 expression [
11
]. The proposed mechanism behind this effect is based on the idea that androgen receptor and, subsequently, TMPPRSS2 expression affects the SARS-COV2 virus ability to enter host cells and its spike proteins affinity to bind ACE2 receptors (Fig.
1
). Therefore, ADT shows the potential to provide partial protection from SARS-CoV2 infections, while measuring androgen levels might be useful for the prognosis of COVID-19 severity. Nevertheless, further pre-clinical and clinical studies are needed for a better understanding of the androgen receptor effects and possible therapeutic applications.
×
Androgen sensitivity and COVID-19 disease severity
All androgens act through the androgen receptor, which is encoded by a single-copy gene on the X chromosome (Fig.
1
), and variants of this gene correlate with different levels of androgen sensitivity. Such modifications increase the risk of androgen-mediated diseases such as androgenic alopecia and prostate cancer [
12
–
14
]. Evidence of androgen sensitivity association with COVID-19 disease progression can, therefore, be observed in such conditions. For example, androgenetic alopecia, a form of male pattern hair loss, is present in a substantial number of hospitalized patients [
7
] and was shown as a risk factor for developing severe COVID-19 symptoms [
6
]. Moreover, prostate cancer patients who take ADT seem to have a lower risk of COVID-19 infection compared to cancer patients without ADT [
11
].
However, the relationship between circulating androgen levels, androgen sensitivity, and COVID-19 severity is not straightforward. As androgens promote androgen receptor transcriptional activity, it would be expected that androgen-deprived patients would have a reduced number of activated androgen receptors to promote TMPRSS2 transcription and, thus, a decreased risk for SARS-CoV2 entry. Nevertheless, reported data from Italy and Germany suggest a contradictory outcome. Low testosterone levels can be observed in the majority of COVID-19 intensive care patients [
15
] and can predict poor prognosis and mortality [
16
]. While both studies have limitations such as lack of control groups or testosterone levels prior to infection, the results warrant consideration. Typically, androgen levels are correlated to androgen sensitivity, but many factors can affect this association [
17
]. For instance, although testosterone levels are known to drop with age, there is no exact threshold that predicts androgen-sensitive phenotypes, and treatments are mostly based on symptomatology [
18
]. A possible modulator that could also mediate SARS-CoV2 infection is inflammation. Pro-inflammatory cytokines and systemic inflammatory processes are associated with low androgens levels in young and older men [
19
,
20
]. In addition, there is evidence that interindividual variation in androgen receptor sensitivity due to cysteine adenine guanine (CAG) polymorphisms can account for sensitivity symptoms even with 'low' testosterone levels [
21
,
22
]
The androgen receptor has three main functional domains: the transactivation domain, the DNA-binding domain, and the ligand-binding domain. The N-terminal transactivation domain harbors a polymorphic CAG nucleotide repeat segment. Interestingly, the length of polymorphic CAG nucleotides repeats is associated with the prostate cancer pathophysiology, as shorter CAG repeats inversely correlate to androgen receptor expression and subsequently increase the risk of prostate cancer [
12
]. Increased androgen receptor expression might lead to a higher risk of acquiring a severe COVID-19 disease by promoting TMPRSS2 transcription (Fig.
2
). Moreover, CAG repeat length was indicated as a mechanism behind racial variations noticed for the COVID-19 mortality rate. For example, African Americans have been disproportionately affected by SARS-COV2 compared to other ethnic groups in the U.S. This ethnic group seems to have a higher risk of developing progressive prostate cancer and display shorter CAG repeats [
4
,
23
]. In vitro diagnostic test clinical trial based on CAG repeats length is currently ongoing to evaluate COVID-19 disease severity (Table
2
). It is important to notice that, to the best of our knowledge, the effects of the length of the polymorphic CAG repeat sequence in pulmonary tissue are still unknown and no clinical data are available to support this hypothesis. Thus, the results from the ongoing trials are vital for evaluating the potential of this mechanism as a COVID-19 severity marker.
×
Androgen suppression targeted treatment for COVID-19
In summary, androgen's TMPRSS2-mediated actions can explain both the low fatalities observed in prepubertal children and the differences between sexes regarding SARS-COV2 infection. Androgen sensitivity might be a critical factor in determining COVID-19 disease severity, and sensitivity tests can, therefore, help in predicting patient outcomes. There is still a large potential for development of androgen suppression-based treatments for COVID-19, but ongoing trials will provide valuable knowledge that can lead to improved therapies.
Acknowledgements
Figures were created with the Biorender Software.
Funding
T.C.M. is supported by the Kungl Vetenskapssamh Scholarship (Royal Society of Arts and Scientists), provided by Uppsala University, Sweden. H.B.S. is supported by the Swedish Research Council, the Swedish Brain Research Foundation, and by the FAT4BRAIN project funding from the European Union's Horizon 2020 research and innovation program [grant #857394]. The funders had no role in the design of the study or in the writing of the paper. Open access funding provided by Uppsala University.
Compliance with ethical standards
Conflict of interest
The authors declare that they have no conflict of interest.
Open Access
This article is licensed under a Creative Commons Attribution 4.0 International License, which permits use, sharing, adaptation, distribution and reproduction in any medium or format, as long as you give appropriate credit to the original author(s) and the source, provide a link to the Creative Commons license, and indicate if changes were made. The images or other third party material in this article are included in the article's Creative Commons license, unless indicated otherwise in a credit line to the material. If material is not included in the article's Creative Commons license and your intended use is not permitted by statutory regulation or exceeds the permitted use, you will need to obtain permission directly from the copyright holder. To view a copy of this license, visit
http://​creativecommons.​org/​licenses/​by/​4.​0/​
.
Publisher's note
Springer Nature remains neutral with regard to jurisdictional claims in published maps and institutional affiliations.