Erschienen in: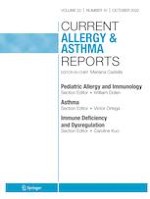 11.06.2022 | Asthma (V Ortega, Section Editor)
Expert Opinion on Practice Patterns in Mild Asthma After the GINA 2019 Updates: A Major Shift in Treatment Paradigms from a Long-Standing SABA-Only Approach to a Risk Reduction–Based Strategy with the Use of Symptom-Driven (As-Needed) Low-Dose ICS/LABA
Erschienen in: Current Allergy and Asthma Reports | Ausgabe 10/2022
Einloggen, um Zugang zu erhalten
Abstract
Purpose of Review
This expert opinion, prepared by a panel of chest disease specialists, aims to review the current knowledge on practice patterns in real-life management of mild asthma and to address the relevant updates in asthma treatment by The Global Initiative for Asthma (GINA) to guide clinicians for the best clinical practice in applying these new treatment paradigms.
Recent Findings
On the basis of the emerging body of evidence suggesting the non-safety of short-acting β2-agonists (SABA)-only therapy and comparable efficacy of the as-needed inhaled corticosteroids (ICS)-formoterol combinations with maintenance ICS regimens, GINA recently released their updated Global Strategy for Asthma Management and Prevention Guide (2019). The new GINA 2019 recommendations no longer support the SABA-only therapy in mild asthma but instead includes new off-label recommendations such as symptom-driven (as-needed) low-dose ICS-formoterol and "low dose ICS taken whenever SABA is taken." The GINA 2019 asthma treatment recommendations include a major shift from long-standing approach of clinical practice regarding the use of symptom-driven SABA treatment alone in the management of mild asthma.
Summary
This expert opinion supports the transition from a long-standing SABA-only approach to a risk reduction–based strategy, with the use of symptom-driven (as-needed) low-dose ICS/LABA in mild asthma patients, particularly in those with poor adherence to controller medications. The thoughtful and comprehensive approach of clinicians to these strategies is important, given that the exact far-reaching impact of this major change in management of mild asthma in the real-world settings will only be clarified over time.