01.12.2021 | Research article | Ausgabe 1/2021 Open Access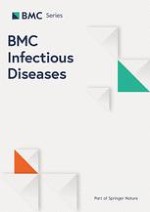 Prevalence, serotypes and virulence genes of
Streptococcus agalactiae

isolated from pregnant women with 35–37 weeks of gestation
Zeitschrift:
Autoren:

Fernando J. Bobadilla, Marina G. Novosak, Iliana J. Cortese, Osvaldo D. Delgado, Margarita E. Laczeski
Wichtige Hinweise
Publisher's Note
Springer Nature remains neutral with regard to jurisdictional claims in published maps and institutional affiliations.
Abstract
Background
In pregnant women
Streptococcus agalactiae
(GBS) can be transmitted to newborn causing severe infections. It is classified into 10 serotypes (Ia, Ib, II-IX). The severity of neonatal disease is determined by the capsular serotype and virulence factors such as the polysaccharide capsule, encoded by the
cps
gene, protein C, which includes the Cα surface proteins (
bca
gene), Rib (
rib
gene) and Cβ (
bac
gene); the proteins Lmb (
lmb
gene), FbsB (
fbsB
gene), FbsA (
fbsA
gene), the
cyl
operon encoding a β-hemolysin
(hylB
gene), the CAMP factor (
cfb
gene) and the C5a peptidase (
scpB
gene). The aim of this work was to determine the degree of GBS colonization in pregnant women, the serotypes distribution and to investigate virulence-associated genes.
Methods
We worked with 3480 samples of vagino-rectal swabs of women with 35–37 weeks of gestation. The identification of the strains was carried out using conventional biochemical tests and group confirmatory serology using a commercial latex particle agglutination kit. Two hundred GBS strains were selected. Their serotype was determined by agglutination tests. The monoplex PCR technique was used to investigate nine virulence-associated genes (
cps
,
bca
,
rib
,
bac
,
lmb
,
fbsB
,
fbsA
,
hy
l
B
and
scpB
).
Results
The maternal colonization was 9.09%. The serotypes found were: Ia (33.50%), III (19.00%), Ib (15.50%), II (14.00%), V (7.00%) and IX (5.50%). 5.50% of strains were found to be non-serotypeable (NT). The nine virulence genes investigated were detected simultaneously in 36.50% of the strains. The genes that were most frequently detected were
scpB
(100.00%),
fbsA
(100.00%),
fbsB
(100.00%),
cylB
(95.00%),
lmb
(94.00%) and
bca
(87.50%). We found associations between serotype and genes
bac
(
p
= 0.003),
cylB
(
p
= 0.02),
rib
(
p
= 0.01) and
lmb
(
p
< 0.001).
Conclusions
The frequency of vaginal-rectal colonization, serotypes distribution and associated virulence genes, varies widely among geographical areas. Therefore, epidemiological surveillance is necessary to provide data to guide decision-making and planning of prevention and control strategies.