26.02.2021 | Stoffwechselkrankheiten und Ernährung | Fortbildung_CME | Ausgabe 1/2021
Kohlenhydratreduktion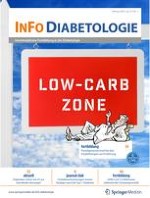 Paradigmenwechsel in den Empfehlungen zur Ernährung bei Typ-2-Diabetes
Zeitschrift:
Autoren:

Dr. med. Katharina Lechner, Director of Research and Innovation PhD Amy L. McKenzie, Prof. Dr. oec. troph. Nicolai Worm
zum Fragebogen im Kurs
Typ-2-Diabetes (T2D) galt lange Zeit als chronisch progrediente Erkrankung. Dieses Verständnis änderte sich mit der Beobachtung von infolge von bariatrischer Therapie erzielten Diabetesremissionen. Inzwischen konnte gezeigt werden, dass auch Ernährungsinterventionen allein zu einer Verbesserung kardiometabolischer Risikoparameter, Einsparung von Medikamenten und Diabetesremission führen können. Dies sollte Anlass zu grundlegendem Umdenken in der Beratung von Patienten mit Diabetes mellitus Typ 2 geben.
×
...