01.12.2017 | Review | Ausgabe 1/2017 Open Access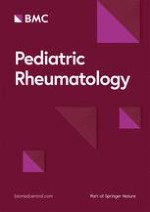 Dealing with Chronic Non-Bacterial Osteomyelitis: a practical approach
Zeitschrift:
Autoren:

Andrea Taddio, Giovanna Ferrara, Antonella Insalaco, Manuela Pardeo, Massimo Gregori, Martina Finetti, Serena Pastore, Alberto Tommasini, Alessandro Ventura, Marco Gattorno
Abbreviations
CNO
Chronic non-bacterial osteomyelitis
CRMO
Chronic recurrent multifocal osteomyelitis
DIRA
Deficiency of IL-1 receptor antagonist
NSAIDS
Non-steroidal anti-inflammatory drugs
PAPA
Pyogenic arthritis, Pyoderma gangrenosum and acne syndrome
SAPHO
Synovitis, Acne, Pustulosis, Hyperostosis, and Osteitis syndrome
Background
Chronic Non-Bacterial Osteomyelitis (CNO) is a rare inflammatory disorder not related to infectious disease [
1
]. It was first described in 1972 by Giedion et al. [
2
] as a symmetric multifocal bone lesions; later, in 1980, Bjorksten B et al. [
3
] first used the term CNO in order to identify a clinical condition which is characterized by recurring episodes or persisting presence of chronic sterile osteomyelitis [
4
–
6
]. Multiple names have been used in literature to describe this disorder; these include chronic recurrent multifocal osteomyelitis (CRMO) in cases with extended multifocal involvement (often symmetric) and synovitis, acne, pustulosis, hyperostosis, and osteitis syndrome (SAPHO), which usually manifests in adolescent and adult patients and which distinguishes for skin involvement [
7
]. The terms CRMO and CNO are often used interchangeably. Although CNO is still considered a rare disorder, its incidence is probably underestimated. In fact, in a single center retrospective study, it has been recently demonstrated that the incidence of CNO is similar to infectious osteomyelitis [
8
]. For these reasons, in absence of standardized diagnostic work out and treatment guidelines, it is important to provide some clinical practical suggestion about the every-day clinical management of CNO patients.
Main Text
Conclusions
CNO is a rare disorder and many considerations about diagnosis and treatment remain to be clarified. However, clinical features, the presence of multifocal lesions and radiologic features may help in diagnosis avoiding bone biopsy. NSAIDs remain the first treatment option, while bisphosphonates and TNF-alpha inhibitors could be considered the best second line treatment option. Even if CNO is often a benign disease, it can lead to severe and persistent complications.
Acknowledgements
Not applicable.
Funding
No funds to declare.
Availability of data and materials
Not applicable.
Competing interest
AT had speaking fees from Pfizer <10,000$; MG had speaking fees form Novartis, SOBI <10,000$.
Ethics approval and consent to participate
Not applicable.
Consent for publication
Not applicable.
Publisher's Note
Springer Nature remains neutral with regard to jurisdictional claims in published maps and institutional affiliations.
Open Access
This article is distributed under the terms of the Creative Commons Attribution 4.0 International License (
http://​creativecommons.​org/​licenses/​by/​4.​0/​
), which permits unrestricted use, distribution, and reproduction in any medium, provided you give appropriate credit to the original author(s) and the source, provide a link to the Creative Commons license, and indicate if changes were made. The Creative Commons Public Domain Dedication waiver (
http://​creativecommons.​org/​publicdomain/​zero/​1.​0/​
) applies to the data made available in this article, unless otherwise stated.