01.12.2016 | Review Article | Ausgabe 1/2016 Open Access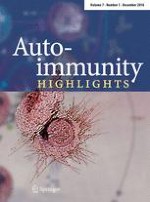 Deciphering the role of DNA methylation in multiple sclerosis: emerging issues
Zeitschrift:
Autoren:

Maria Sokratous, Efthimios Dardiotis, Zisis Tsouris, Eleni Bellou, Amalia Michalopoulou, Vasileios Siokas, Stylianos Arseniou, Tzeni Stamati, Georgios Tsivgoulis, Dimitrios Bogdanos, Georgios M. Hadjigeorgiou
Wichtige Hinweise
M. Sokratous and E. Dardiotis contributed equally to this work.
Epigenetics in MS: convergence between genetic and environmental factors
DNA methylation
DNA methylation is assumed to be among the best described epigenetic mechanisms, first referred to its correlation with cancer, regulating the expression of oncogenes and tumor suppressor genes [
20
]. However, over the past decade, a huge effort has been made to explain its role in immunity and autoimmunity. To begin with, DNA methylation is an essential process for normal cell development, proliferation, and genome integrity [
21
]. It is mediated by a number of enzymes called DNA methyltransferases (DNMTs), the most important of which are DNMT1, DNMT3a, and DNMT3b. These enzymes are responsible for the positioning of a methyl group at the 5′-carbon position of a cytosine converting it into 5′-methylcytosine. The first one is associated with the preservation of methylation to the daughter strands during every replication cycle, while the other two enzymes set up methylation de novo at the early developmental stages of cell life. DNA methylation mainly occurs at regions where a guanine accompanies the cytosine, forming a dinucleotide. Hundreds of these dinucleotides are found repetitively in gene promoters, as CpG islands. Hypermethylation of these sites leads to silencing of the gene, by not allowing transcription factors to bind to the gene promoter, while hypomethylation to the transcription and usually to the expression of the subjected gene [
22
]. The demethylation of those regions can easily occur in either a passive or in an active way. The passive one is favored during DNA replication, while the active one is achieved by other enzymes not particularly during cell division. Methylation patterns usually pass to the next generation through meiosis and also form the chromatin structure, affecting cell function [
23
].
The role of DNA methylation in MS
Concluding remarks—emerging issues
Epigenetics, and in particular DNA methylation, may be the bridge between genotypes, environmental exposures, and MS. However, studies on DNA methylation in MS are relatively few, with limited sample size, and perhaps, it is too early to draw firm conclusions so far. Yet, what is clear from the studies is that DNA methylation is influenced by environmental factors and affects gene expression that may predispose to MS. An additional contribution of studies of MS epigenetics is that they have revealed the significance of genetic loci that were not previously linked to MS [
45
].
Epigenetic findings in MS generally differed among different studies. A number of explanations may account for the discordant findings. Tissue specificity in DNA methylation, the epigenetic changes induced as a result of aging, the possible inability of detecting loci with low methylation changes, the limited sample size, the diversity in methodology, and the tested MS clinical phenotypes could explain, at least in part, the discordance of results among the studies [
3
,
31
]. Purified cell populations should be preferred from mixtures of cells to receive tissue specific epigenetic profile. The use of new techniques could also help to identify and estimate epigenetic changes in vivo [
3
,
48
]. Moreover, it should be examined how changes in DNA methylation influence the expression of the corresponding translational peptide. Routinely collected data in epidemiological studies could be considered as co-predictors of DNA methylation, as they have been reported to influence DNA methylation in healthy population [
49
]. In addition, prospective studies would reveal changes in DNA methylation years before the development of MS [
50
] and could provide us more information regarding a possible clinical application of DNA methylation as MS biomarker. The identification of such a biomarker in relation to disease development, clinical course or treatment response in patients with MS would provide physicians with a clinically useful and cost effective tool [
34
,
51
,
52
]. However, the role of methylation in MS needs further investigation as every genetic locus follows a different methylation pattern [
28
], and this is not necessarily linked to the development of the disease.
Epigenetic changes may be reversed by treatments intervening in the DNA methylation, histone deacetylation, and silencing of miRNAs [
53
,
54
]. The search of epigenetic treatments, though, is still in its infancy. The current approach focuses on targeting key enzymes for the procedures of DNA methylation and histone deacetylation. Agents that inhibit DNMTs and histone deacetylase (such as 5-azacytidine and valproate, respectively) have been proved very effective in hematological cancers. However, clinical trials in MS patients have lingered, as the above-mentioned epigenetic processes have not yet been established as biomarkers for the development and severity of the disease. Another deterrent could be the lack of specificity of such agents, thus increasing the risk of side effects in MS patients. Although in vitro studies and trials in mouse models of MS seem to be very encouraging about the therapeutic potential of DNMT and histone deacetylase inhibitors, the contradictions mentioned should be taken into consideration [
55
]. Further research on epigenetics in MS is of great necessity to elucidate pathophysiological aspects and demonstrate more effective, riskless, and personalized therapeutic approaches.
Compliance with ethical standards
Informed consent
For this type of study, formal consent is not required.
Ethical approval
This article does not contain any studies with human participants performed by any of the authors.
Conflict of interest
The authors declare that they have no conflicts of interest.
Open Access
This article is distributed under the terms of the Creative Commons Attribution 4.0 International License (
http://​creativecommons.​org/​licenses/​by/​4.​0/​
), which permits unrestricted use, distribution, and reproduction in any medium, provided you give appropriate credit to the original author(s) and the source, provide a link to the Creative Commons license, and indicate if changes were made.