01.12.2018 | Research article | Ausgabe 1/2018 Open Access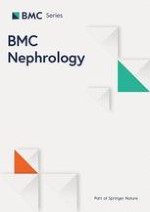 Decision-making process in the pre-dialysis CKD patients: do anxiety, stress and depression matter?
Zeitschrift:
Autoren:

Cicero Italo L. Bezerra, Bruno C. Silva, Rosilene M. Elias
Abstract
Background
The transition from pre-dialysis chronic kidney disease (CKD) to renal replacement therapy (RRT) is a stressful event. Anxiety, depression and stress are frequent conditions in this population, and might play a role on the choice of dialysis modality.
Methods
This is a prospective study that included stages 4-5 CKD patients during a dialysis multi-disciplinary education program. Demographic, clinical, and laboratory data were evaluated. Hospital Anxiety and Depression Scale and a Perceived Stress Scale assessed levels of anxiety, depression and stress, respectively.
Results
A total of 67 from 190 recruited patients were included (59 ± 15 years, 54% males). Comparing patients who chose peritoneal dialysis (PD) and hemodialysis (HD), there were no differences on anxiety (
p
 = 0.55), and depression scores (
p
 = 0.467), and stress (
p
 = 0.854). Anxious (
p
 = 0.007) and depressive (
p
 = 0.030) patients presented lower levels of phosphate than those not affected. There was a significant correlation (
p
 < 0.0001) between anxiety and depression scores (
R
2
 = 0.573), anxiety and stress scores (
R
2
 = 0.542), depression and stress scores (
R
2
 = 0.514). At the end of study, 29.8% of patients had already started on dialysis, and scores of anxiety, depression and stress reduced significantly (all
p
values < 0.0001), from 5.9 ± 3.3 to 1.8 ± 1.8, from 7.7 ± 4.0 to 3.8 ± 2.9 and from 28.6 ± 7.8 to 10.0 ± 6.2, respectively, regardless of which therapy was chosen.
Conclusion
Depression, anxiety and perceived stress during final stages of CKD do not seem to be related to the choice of dialysis therapy and tend to decrease after dialysis initiation.