01.12.2012 | Research article | Ausgabe 1/2012 Open Access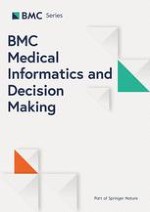 Decision support at home (DS@HOME) – system architectures and requirements
Zeitschrift:
Autor:

Michael Marschollek
Wichtige Hinweise
Electronic supplementary material
The online version of this article (doi:
10.​1186/​1472-6947-12-43
) contains supplementary material, which is available to authorized users.
Competing interests
The author declares that he has no competing interests.
Background
Considering the rising relevance of home-based, health-enabling technologies, the overall aim of the research for this paper is to investigate and present the state-of-the-art in decision support systems for health care purposes or patient support in home environments, and in particular
· to define characterizing properties for these systems with regard to their dispersion, architectures and integration into home care (aim#1) and apply these to the results of a literature analysis, and
· to define the requirements for home care decision support systems with regard to architectural and functional aspects (aim#2).
The rest of this paper is arranged as follows: The "Methods" section describes the methods used in the literature search and analysis. Within the "Results" section, the literature review results are presented, followed by a sub-section proposing a categorization scheme for the systems identified. Subsequently, the identified systems are described in more detail with regard to their properties and specific features. The "Results" section concludes with a sub-section defining requirements for decision support systems in the context of home environments. The results are discussed critically and the paper concludes with a brief summary and a suggestion for future lines of research.
Methods
The author has conducted a literature analysis in the PubMed/Medline database on June 17, 2011, using the search term
('decision support' or 'self-management')
and
('sensors' or 'smart' or 'tele' or 'telecare' or 'telemedicine').
The abstracts of all research papers found during the search were reviewed with regard to their relevance for the aims of the study and using the following inclusion criteria:
· description of a dedicated decision support component,
· comprehensible implementation of a DS component, and
· application in a home environment.
Subsequently, selected full papers meeting the inclusion criteria were analyzed (Figure
1
). Apart from the guided search, cross-references within these papers were analyzed. Subsequently, all identified decision support systems in home environments were characterized using three basic properties proposed by the author (Table
1
). Finally, using the available body of literature, the author has defined the requirements of such systems. Review or design papers identified during the literature search were included as references in the discussion section.
×
Table 1
Three main properties of the decision support systems identified
Reference(s)

Location

Autonomy of decision component

HIS integration

remarks

home

server

descript.analysis

single parameter

multi-parameter

fully autonomous, real-time

no

forwarding

full integration

X

X

X

(X)

HIS integration plans mentioned

X

X

X

X?

X

X

telephone-based

X

X

?

X

X

X

X

(study design)

X

X

X

cf. Joshi, Finkelstein

X

X

X

X

cf. Cross, Joshi

X

X

X

HIS integration plans mentioned

X

X

X

cf. Cross, Finkelstein

X

X

X

HIS integration plans mentioned, cf. Song, Helmer

X

X

X

X

design description

X

X

X

HIS integration plans mentioned, cf. Helmer, Marschollek

X

X

X

X
Complying with the rules of Good Scientific Practice [
29
], all search results may be requested from the author.
Results
Discussion
The assembled requirements (aim#2) may serve developers of DSS as helpful guiding criteria for successful implementations, yet the author does not claim them to be complete or ranked according to their importance.
Conclusions
This paper focuses on decision support systems in home environments and presents the current state-of-the-art. Among the predominant challenges for current systems, integration with health information systems resp. clinical application systems have been stressed along with the need for the standardization of knowledge bases. The author has also identified a set of requirements for the successful implementation of DSS in home environments. In the future, these requirements will have to be met by system developers if the use of home-based health-enabling technologies shall be employed not only to gather large amounts of data, but also to provide a benefit for both the patient and the doctor by providing additional information that serves to enhance the knowledge basis on which decisions about health matters are finally made.
Further research is necessary with regard to the outcome of using decision support components at home respectively for home care. The research topics to be addressed should include cost-benefit-analyses, acceptance of DSS by patients as well as medical professionals, standardization of decision logic, pros and cons of different system architectures (centralized vs. locally distributed/ mobile) and methods of advanced individualized data analysis (data fusion, multi-parametric analyses).
Acknowledgements
This publication is supported by the project "Open Access Publizieren" by the Deutsche Forschungsgemeinschaft (DFG). I wish to thank all my colleagues for the frequent discussions about decision support system in home environments, most notably Klaus-Hendrik Wolf, Matthias Gietzelt and Bianying Song.
This article is published under license to BioMed Central Ltd. This is an Open Access article distributed under the terms of the Creative Commons Attribution License (
http://​creativecommons.​org/​licenses/​by/​2.​0
), which permits unrestricted use, distribution, and reproduction in any medium, provided the original work is properly cited.
Competing interests
The author declares that he has no competing interests.