01.12.2018 | Research | Ausgabe 1/2018 Open Access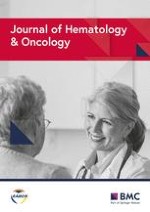 Decitabine demonstrates antileukemic activity in B cell precursor acute lymphoblastic leukemia with MLL rearrangements
Zeitschrift:
Autoren:

C. Roolf, A. Richter, C. Konkolefski, G. Knuebel, A. Sekora, S. Krohn, J. Stenzel, B. J. Krause, B. Vollmar, H. Murua Escobar, C. Junghanss
Wichtige Hinweise
Electronic supplementary material
Abstract
Background
Promotor hypermethylation of CpG islands is common in B cell precursor acute lymphoblastic leukemia (BCP-ALL) with mixed lineage leukemia (MLL) gene rearrangements. Hypomethylating agents (HMA) such as azacitidine (AZA) and decitabine (DEC) reduce DNA hypermethylation by incorporation into DNA and were successfully introduced into the clinic for the treatment of myeloid neoplasias.
Methods
Here, we investigated whether HMA induce comparable biological effects in MLL-positive BCP-ALL. Further, efficacy of HMA and concomitant application of cytostatic drugs (cytarabine and doxorubicin) were evaluated on established SEM and RS4;11 cell lines. In addition, promising approaches were studied on BCP-ALL cell line- and patient-derived xenograft models.
Results
In general, DEC effects were stronger compared to AZA on MLL-positive BCP-ALL cells. DEC significantly reduced proliferation by induction of cell cycle arrest in G0/G1 phase and apoptosis. Most sensitive to HMA were SEM cells which are characterized by a fast cell doubling time. The combination of low-dose HMA and conventional cytostatic agents revealed a heterogeneous response pattern. The strongest antiproliferative effects were observed when ALL cells were simultaneously exposed to HMA and cytostatic drugs. Most potent synergistic effects of HMA were induced with cytarabine. Finally, the therapeutic potential of DEC was evaluated on BCP-ALL xenograft models. DEC significantly delayed leukemic proliferation in xenograft models as demonstrated longitudinally by non-invasive bioluminescence as well as 18F-FDG-PET/CT imaging. Unexpectedly, in vivo concomitant application of DEC and cytarabine did not enhance the antiproliferative effect compared to DEC monotherapy.
Conclusions
Our data reveal that DEC is active in MLL-positive BCP-ALL and warrant clinical evaluation.