01.08.2011 | Research article | Ausgabe 4/2011 Open Access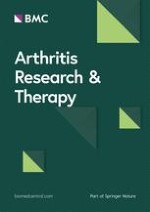 Decreased catalytic function with altered sumoylation of DNA topoisomerase I in the nuclei of scleroderma fibroblasts
Zeitschrift:
Autoren:

Xiaodong Zhou, Wei Lin, Filemon K Tan, Shervin Assassi, Mavin J Fritzler, Xinjian Guo, Roozbeh Sharif, Tom Xia, Syeling Lai, Frank C Arnett
Wichtige Hinweise
Electronic supplementary material
The online version of this article (doi:
10.​1186/​ar3435
) contains supplementary material, which is available to authorized users.
Competing interests
The authors declare that they have no competing interests.
Authors' contributions
ZX carried out research design, experiments and manuscript writing. WL conducted molecular studies and cell cultures. TF and AS conducted skin biopsies and helped with manuscript preparation. FM conducted autoantibody tests and manuscript preparation. GX carried out molecular studies and cell cultures. SR enrolled patients and did skin biopsies. XT conducted molecular studies. LS did skin biopsies for controls. AF carried out research design and manuscript preparation. All authors read and approved the final version of the manuscript.
Abstract
Introduction
Sumoylation is involved in nucleolus-nucleoplasm transport of DNA topoisomerase I (topo I), which may associate with changes of cellular and topo I functions. Skin fibroblasts of patients with systemic sclerosis (SSc) exhibit profibrotic cellular changes. The aims of this study were to examine the catalytic function and sumoylation of topo I in the nuclei of SSc fibroblasts, a major cell type involved in the fibrotic process.
Methods
Eleven pairs of fibroblast strains obtained from nonlesional skin biopsies of SSc patients and age/sex/ethnicity-matched normal controls were examined for catalytic function of nuclear topo I. Immunoprecipitation (IP)-Western blots were used to examine sumoylation of fibroblast topo I. Real-time quantitative RT-PCR was used to measure transcript levels of SUMO1 and COL1A2 in the fibroblasts.
Results
Topo I in nuclear extracts of SSc fibroblasts generally showed a significantly lower efficiency than that of normal fibroblasts in relaxing equivalent amounts of supercoiled DNA. Increased sumoylation of topo I was clearly observed in 7 of 11 SSc fibroblast strains. Inhibition of SUMO1 with SUMO1 siRNA improved the catalytic efficiency of topo I in the SSc fibroblasts. In contrast, sumoylation of recombinant topo I proteins reduced their catalytic function.
Conclusions
The catalytic function of topo I was decreased in SSc fibroblasts, to which increased sumoylation of topo I may contribute.