01.12.2016 | Research article | Ausgabe 1/2016 Open Access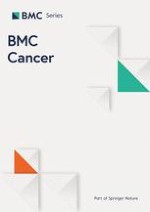 Decreased expression of hyaluronan synthase 1 and 2 associates with poor prognosis in cutaneous melanoma
Zeitschrift:
Autoren:

Mari Poukka, Andrey Bykachev, Hanna Siiskonen, Kristiina Tyynelä-Korhonen, Päivi Auvinen, Sanna Pasonen-Seppänen, Reijo Sironen
Wichtige Hinweise
Electronic supplementary material
The online version of this article (doi:
10.​1186/​s12885-016-2344-8
) contains supplementary material, which is available to authorized users.
Competing interests
The authors declare that they have no competing interests.
Authors' contribution
MP analyzed histopathological specimens, participated on the collection of the clinical data, performed the statistical analyses and drafted the manuscript. AB participated on the collection of the clinical data and commented on the manuscript. HS analyzed histopathological specimens and commented on the manuscript. KTK organized clinical data collection and commented on the manuscript. PA advised and helped performing the statistical analyses and commented on the manuscript. SPS designed this study and the immunohistological stainings, coordinated the study and helped to draft the manuscript. RS designed this study, analyzed histopathological specimens and helped to draft the manuscript. All authors read and approved the final manuscript.
Abstract
Background
Hyaluronan is a large extracellular matrix molecule involved in several biological processes such as proliferation, migration and invasion. In many cancers, hyaluronan synthesis is altered, which implicates disease progression and metastatic potential. We have previously shown that synthesis of hyaluronan and expression of its synthases 1–2 (HAS1-2) decrease in cutaneous melanoma, compared to benign melanocytic lesions.
Methods
In the present study, we compared immunohistological staining results of HAS1 and HAS2 with clinical and histopathological parameters to investigate whether HAS1 or HAS2 has prognostic value in cutaneous melanoma. The specimens consisted of 129 tissue samples including superficial (Breslow ≤ 1 mm) and deep (Breslow > 4 mm) melanomas and lymph node metastases. The differences in immunostainings were analysed with non-parametric Mann–Whitney U test. Associations between immunohistological staining results and clinical parameters were determined with the χ2 test. Survival between patient groups was compared by the Kaplan-Meier method using log rank test and Cox's regression model was used for multivariate analyses.
Results
The expression of HAS1 and HAS2 was decreased in deep melanomas and metastases compared to superficial melanomas. Decreased immunostaining of HAS2 in melanoma cells was significantly associated with several known unfavourable histopathologic prognostic markers like increased mitotic count, absence of tumor infiltrating lymphocytes and the nodular subtype. Furthermore, reduced HAS1 and HAS2 immunostaining in the melanoma cells was associated with increased recurrence of melanoma (
p
 = 0.041 and
p
 = 0.006, respectively) and shortened disease- specific survival (
p
 = 0.013 and
p
 = 0.001, respectively).
Conclusions
This study indicates that reduced expression of HAS1 and HAS2 is associated with melanoma progression and suggests that HAS1 and HAS2 have a prognostic significance in cutaneous melanoma.