08.04.2019 | Cardiac | Ausgabe 10/2019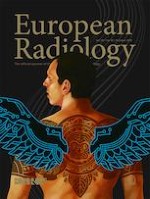 Deep learning–based image restoration algorithm for coronary CT angiography
Zeitschrift:
Autoren:

Fuminari Tatsugami, Toru Higaki, Yuko Nakamura, Zhou Yu, Jian Zhou, Yujie Lu, Chikako Fujioka, Toshiro Kitagawa, Yasuki Kihara, Makoto Iida, Kazuo Awai
Wichtige Hinweise
Publisher's note
Springer Nature remains neutral with regard to jurisdictional claims in published maps and institutional affiliations.
Abstract
Objectives
The purpose of this study was to compare the image quality of coronary computed tomography angiography (CTA) subjected to deep learning–based image restoration (DLR) method with images subjected to hybrid iterative reconstruction (IR).
Methods
We enrolled 30 patients (22 men, 8 women) who underwent coronary CTA on a 320-slice CT scanner. The images were reconstructed with hybrid IR and with DLR. The image noise in the ascending aorta, left atrium, and septal wall of the ventricle was measured on all images and the contrast-to-noise ratio (CNR) in the proximal coronary arteries was calculated. We also generated CT attenuation profiles across the proximal coronary arteries and measured the width of the edge rise distance (ERD) and the edge rise slope (ERS). Two observers visually evaluated the overall image quality using a 4-point scale (1 = poor, 4 = excellent).
Results
On DLR images, the mean image noise was lower than that on hybrid IR images (18.5 ± 2.8 HU vs. 23.0 ± 4.6 HU,
p
 < 0.01) and the CNR was significantly higher (
p
 < 0.01). The mean ERD was significantly shorter on DLR than on hybrid IR images, whereas the mean ERS was steeper on DLR than on hybrid IR images. The mean image quality score for hybrid IR and DLR images was 2.96 and 3.58, respectively (
p
 < 0.01).
Conclusions
DLR reduces the image noise and improves the image quality at coronary CTA.
Key Points
• Deep learning–based image restoration is a new technique that employs the deep convolutional neural network for image quality improvement.
• Deep learning–based restoration reduces the image noise and improves image quality at coronary CT angiography.
• This method may allow for a reduction in radiation exposure.