01.12.2018 | Research article | Ausgabe 1/2018 Open Access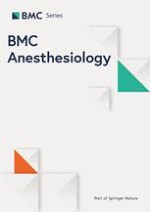 Deferoxamine preconditioning ameliorates mechanical ventilation-induced lung injury in rat model via ROS in alveolar macrophages: a randomized controlled study
Zeitschrift:
Autoren:

Weilin Zhu, Yuansi Huang, Yuqiong Ye, Yafeng Wang
Abstract
Background
Mechanical ventilation (MV) can provide effective breathing support; however, ventilatior-induced lung injury (VILI) has also been widely recognized in clinical practice, including in the healthy lung. Unfortunately, the morbidity and mortality of VILI remain unacceptably high, and no satisfactory therapeutic effect can be achieved. The current study aimed to examine the effects of iron chelator preconditioning on the mitochondrial reactive oxygen species (ROS) in alveolar macrophages and pathological lung injury in VILI.
Methods
Twenty four healthy male Sprague–Dawley (SD) rats (250–300 g in weight) were randomly divided into 3 groups, including the control group (NC group,
n
 = 8), the high-volume mechanical ventilation group (HV group,
n
 = 8), and the deferoxamine treatment group (HV + DFO group, n = 8). Rats in the HV and HV + DFO groups were subjected to high-volume MV at a dose of 40 ml/kg. DFO was administered at a dose of 200 mg/kg 15 min prior to over-ventilation. Spontaneously breathing anesthetized rats were used as the controls. The animals were sacrificed after 4 h of high-volume ventilation or under control conditions, the animals were sacrificed. Purified alveolar macrophages from bronchoalveolar lavage fluid (BALF) and lung tissue were collected for further analysis through light microscopy and flow cytometry.
Results
Compared with the controls, the high-volume-ventilated rats had exhibited typical lung edema and histological lung injury, and ROS were markedly increased in alveolar macrophages and mitochondria. Moreover, all indices of VILI were remarkably different in rats treated with DFO preconditioning. DFO could ameliorate lung injury in the mechanically ventilated SD rat model.
Conclusions
DFO preconditioning contributes to mitigating the histological lung damage while reducing ROS levels in alveolar macrophages and mitochondria, suggesting that iron metabolism in alveolar macrophages may participate in VILI.