01.12.2018 | Commentary | Ausgabe 1/2018 Open Access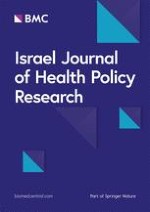 Defining and measuring population health quality of outpatient diabetes care in Israel: lessons from the quality indicators in community health program
Zeitschrift:
Autoren:

Leonard M. Pogach, David C. Aron
Background
Since 2002, the Israel Quality Indicators in Community Healthcare (QICH) program has monitored ambulatory care for the Israeli population using electronic health care records. Indicators were created with the consensus of health plans and the Israeli medical association. Diabetes was one of the initial conditions and was expanded in 2006 to include intermediate outcome data [
1
] similar to the National Committee for Quality Assurance (NCQA) measures approved for implementation in 2007 [
2
]. The QICH denominator differed by including only those patients receiving oral agents or insulin.
Calderon-Margalit et al. [
3
] report improved trends in adherence to process outcomes and intermediate outcomes from 2002 to 2010. Since all patients received medications, the improvement is not likely to be attributable to increased prevalence of new-onset diabetes. However, without stratification trends in the < 65 and 65–74-year age groups could not be assessed.
Additionally, there was a positive association of the composite quality indicator score with rates of end-stage complications and mortality from 2006 to 2012, accounting for a lag period. These findings are similar to United States [US] trends [
4
]. However, unmeasured factors, such as decreased smoking rates or improved care delivery, could be more important than intermediate outcome measures, especially given the short lag time.
QICH continued to utilize the NCQA measures [< 130/80 mm/Hg, < 7% A1c] through 2010 for all patients 18–74 years, although HEDIS revised them in 2008 after early termination of the ACCORD Study. However, after 2012, QICH significantly revised the measures (Ronit Calderon, personal communication). The changes included identification of patients by laboratory value; changing the target values of A1c to < 8% for older patients and those with duration of diabetes greater than 10 years; assessment of patients with nephropathy receiving ACEI/ARB therapy; and changing the frequency of eye examinations from annually to every other year.
Commentary
What lessons from the QICH experience may be generalized to OCED nations, including the United States (US)?
First, the QICH program provides no financial payments for physicians or plans. Presumably professionalism is the motivation for improved trends, although we cannot exclude peer pressure. This approach warrants careful consideration by US Healthcare leaders.
Conclusion
Balancing benefits and harms of treatment for individuals while monitoring population health will require a major shift in our approach to diabetes performance measurement. It will be necessary, for some measures, to involve patients and clinicians in setting personalized goals rather than being dictated by "meeting a measure". Treatment decisions require knowledge-guided by professionalism and patient consent, guided by ethics [
22
]. "The physician should not treat the disease but the patient who is suffering from it (Rambam)."
Authors' information
Drs. Aron and Pogach have published extensively on the topic of diabetes guidelines, medication safety, and diabetes performance measures. The opinions expressed are solely those of the authors, and do not represent any institution or agency.
Ethics approval and consent to participate
Not applicable.
Competing interests
The authors declare that they have no competing interest.
Publisher's Note
Springer Nature remains neutral with regard to jurisdictional claims in published maps and institutional affiliations.
Open Access
This article is distributed under the terms of the Creative Commons Attribution 4.0 International License (
http://​creativecommons.​org/​licenses/​by/​4.​0/​
), which permits unrestricted use, distribution, and reproduction in any medium, provided you give appropriate credit to the original author(s) and the source, provide a link to the Creative Commons license, and indicate if changes were made. The Creative Commons Public Domain Dedication waiver (
http://​creativecommons.​org/​publicdomain/​zero/​1.​0/​
) applies to the data made available in this article, unless otherwise stated.