01.12.2010 | Research | Ausgabe 1/2010 Open Access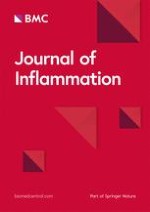 Defining human mesenchymal stem cell efficacy
in vivo
Zeitschrift:
Autoren:

Tracey L Bonfield, Mary T Nolan (Koloze), Donald P Lennon, Arnold I Caplan
Wichtige Hinweise
Electronic supplementary material
The online version of this article (doi:
10.​1186/​1476-9255-7-51
) contains supplementary material, which is available to authorized users.
Competing interests
The authors declare that they have no competing interests.
Authors' contributions
TB directed, analyzed and planned all of the studies. MN carried out the studies and helped with the methods. DL isolated the hMSCs, did the cube scores and provided information on the technology associated with the hMSCs. AC provided insight on the hMSCs impact on the asthma model and the identification of the potential for hMSC efficacy testing. AC laboratory provided the support for the stem cell production, validation and application. All authors read and approved the final manuscript.
Introduction
Human mesenchymal stem cells (hMSCs) from marrow reside
in situ
as pericytes that are hypothesized to function as sentinels to guard against self-surveillance by T-cells at sites of tissue damage [
1
]. The local titers of hMSCs depend on the vascular density at that site and on other factors. Although hMSCs were first thought to function as the source for cellular replacement therapies, their immuno-modulatory and trophic activities have the potential for profound therapeutic impact in diseases associated with sustained inflammation. By providing additional hMSCs through systemic routes, both immuno-regulatory and regenerative trophic activities at sites of inflammation and tissue damage can be enhanced [
2
].
hMSCs are non-hematopoietic, multi-potent progenitor cells, which have the ability to influence immune effector cell development, maturation and function as well as allo-reactive T-cell responses through the production of bioactive cytokines and proteins [
3
]. The designation of hMSCs is based upon extensive immunophenotyping using surface antigens and ability to function in
in vitro
models [
4
]. MSCs are immuno-modulatory and express no MHC class II, making hMSCs a viable therapeutic across tissue typing [
5
,
6
]. hMSCs produce large quantities of bioactive factors which provide molecular signatures for the pathway and activity status of the responding cells [
7
,
8
]. These bioactive factors are anti-scarring, angiogenic, anti-apoptotic and regenerative (i.e., mitotic for host-derived progenitor cells). As evidence of the profound effect of hMSCs on the immune system, our colleagues and others have reported that hMSCs are well tolerated and therapeutically active in immuno-competent rodent models of multiple sclerosis and stroke [
9
–
11
]. Thus, xenogenic hMSCs repress host immunological surveillance in rodents while at the same time producing reparative growth factors.
An important issue in hMSC biology has been understanding the significant variability among cell preparations. Models need to be developed which not only show the relative unique therapeutic application of hMSCs, but also measure
in vivo
function (i.e., therapeutic potency). Acute (short-term)
in vivo
models of inflammation have the potential to provide vehicles for hMSC efficacy assessment. Although chronic (long-terms) models provide valid options for study, our focus was on an
in vivo
model which would provide a quick answer of hMSC activity, with the clinical and therapeutic applications in mind. Culture-expanded hMSCs increase in size with each passage and thus, on a size basis alone are observed to lodge in the lungs in substantial numbers when given intravenously [
12
]. hMSCs have the potential to provide a local source of trophic factors in the pulmonary environment, which may result in changes in lung inflammation [
13
]. This circumstance allows us to determine the effects of hMSCs in the initiation of inflammatory lung diseases and to establish the criteria for efficacy of different donor hMSCs on early stages of asthma in rodent models.
Acute bronchial asthma has been characterized by allergic airway inflammation, which induces both cytological as well as histological changes in the airway structure over time [
14
]. The pathogenic characteristics of allergic asthma are associated with airway inflammation and infiltration of mast cells, basophils, eosinophils, monocytes and T helper type 2 lymphocytes, along with the production of isotype-specific immunoglobulin E (IgE) [
15
,
16
]. Several animal models have been developed to model human airway disease associated with acute asthma, which have the capacity to mimic the histological and pathologic changes in the lung. A commonly used model to study airway inflammation
in vivo
involves primary sensitization with ovalbumin (OVA) followed by daily intranasal challenge with the antigen to generate airway inflammation mimicking the acute asthma exacerbation. This short-term model can provide the basis for studying the trophic impact of lodged hMSCs on development of lung inflammation associated with acute asthma challenge and the potential benefit of hMSCs in circumventing acute asthmatic inflammatory disease.
The results of these studies provide the foundation for understanding the role of hMSCs in altering inflammatory processes
in vivo
and provide support for the utilization of the short-term acute asthma model as a validation tool for hMSC efficacy and function
in vivo
.
Materials and methods
Mouse Model
Balb/c mice were purchased from the Jackson Laboratories (Bar Harbor, Maine) at 5 weeks, allowed to adjust to environment for 1 week. On day 0 (6 weeks of age) mice were sensitized by intra-peritoneal injections (100 μL) of 10 μg of ovalbumin (OVA) emulsified in 1.5 mg of Al (OH)
3
. On day 14, mice were exposed to 1% wt/vol OVA [
17
,
18
] in sterile saline by aerosolization every day for 5 days. Sham sensitization and sham challenges were carried out with sterile saline. hMSCs were given on either day 14 or day 16 by tail vein injection with 1 × 10
6
hMSC/mouse in 100 ul of PBS. For each of a minimum of 3 experiments, 4-6 animals were evaluated for the following: saline challenge, saline challenge +hMSC, ovalbumin challenge, ovalbumin challenge+hMSCs. In addition, subsets of saline and ovalbumin mice were given bone marrow derived macrophages (BMDM) as a control for the hMSC. As a positive control for immunosuppression, a subset of the ovalbumin sensitized, ovalbumin challenged mice received dexamethasone at 10 mg/kg. In all cases, the dexamethasone significantly decreased total cell recruitment and eosinophil counts (data not shown) supporting our ability to measure changes in airway inflammation.
Lung Inflammation
Mice were injected subcutaneously with ketamine (80 mg/kg) and xylazine (10 mg/kg). The thoracic cavity was opened and lungs exposed. Bronchoalveolar lavage (BAL) was performed by inserting a cannula through a cut in the trachea into the bronchi and infusing 3 × 1 ml aliquots of warm PBS containing 0.2% lidocaine. The BAL fluid sample was recovered by aspirating the liquid with a syringe. Cells were separated from lavage fluid and differential analysis was evaluated using cytospins and Wright-Giemsa staining. Remaining cells were frozen for future analysis. BAL fluid was frozen at -80°C until assessment for cytokines.
Lung Pathology
Lungs were either perfused with 10% formalin or snap frozen. Mean viability of lavage cells was > 95% by trypan blue dye exclusion. Animals were assessed for inflammation by BAL and a separate set of animals was evaluated for lung histology using H&E and trichrome staining.
Systemic Inflammation
Animals underwent cardiac puncture after completion of lavage and the blood was processed to obtain serum and plasma. Serum cytokines were measured using ELISAs or Luminex technology.
MSCs
Cells were isolated from the marrow of healthy volunteers as described elsewhere [
19
]. Briefly, the marrow aspirates were layered on density gradients, and the light cell fraction was retrieved, washed and plated in selected batches of 10% fetal bovine serum (FBS) in Dulbecco's Modified Eagle Medium (DMEM) [
20
]. Within 14 days the colony-forming units were selectively expanded to near confluency and the cells were then lifted from the dish with trypsin and replated at 4500 cells/cm
2
to ensure they maintained active cell division. As determined by other studies, cells cultured using this protocol were homogenous when FAC-Sorted using over 100 different cell surface antibodies [
4
]. All 7 hMSCs preparations were harvested from culture at passage 2, during log-growth and given intravenously. Just before cells are trypsinized, they are rinsed with Tyrode's salt solution then labeled with the vital dye, Dil at a concentration of 1 ug/ml in Tyrode's for 20 minutes at 37°C. Dil was initially diluted to 1 mg/ml in DMSO followed by 1:1000 diluted in Tyrode incubated for 20 minutes at 37°C. Each experimental run used hMSCs from a different donor; 7 different hMSC preparations were used for these studies.
Bone marrow derived macrophages (BMDM)
BMDM were utilized in a subset of studies (n = 3). Briefly, bone marrow aspirates were obtained from syngeneic mice and cultured in the presence of L929 media as previously defined [
21
].
Ceramic Cube Assay
Several
in vitro
assays for bone, cartilage, marrow stroma, fat [
22
], and an
in vivo
assay [
22
,
23
] for the differentiation of bone in porous calcium phosphate ceramic cubes (3 mm) have been used to test for the differentiation potential and purity of the hMSCs [
24
]. The standard assay "the ceramic cube assay" for this differentiation is the ability of hMSCs to form bone in 3-mm porous calcium phosphate cubes implanted subcutaneously in mice. We have documented that a quantitative assessment of the amount of bone within the pores of the cube is possible [
24
,
25
]. The purity of hMSCs was defined as previously published [
26
,
27
]. Briefly, cubes measuring approximately 3 mm per side were cut from a cylindrical ceramic rod composed of 40% hydroxyapatite and 60% tricalcium phosphate, generously provided by the Zimmer Corporation. The cubes were washed with deionized water, dried, and then autoclaved. The sterile cubes were immersed in a solution of fibronectin at a concentration of 100 μg/ml. After a partial vacuum was produced by withdrawing air through the cap of the tube with a 30-ml syringe attached to a 22-gauge needle, the cubes were kept in the fibronectin solution for 2 hours, after which they were allowed to dry at room temperature. Human MSCs were trypsinized as described above and resuspended in serum-free medium at a concentration of 5 million cells per ml. We load the cube with a suspension of 5 million cells per ml, estimating the load volume to be 30-40 thousand cells. Fibronectin-coated cubes were added to the cell suspension and a partial vacuum was generated as for the fibronectin coating [
28
,
29
]. Cell-loaded cubes were then incubated at 37°C for two hours in a humidified atmosphere consisting of 5% CO
2
and 95% air. After the incubation period, the cubes were implanted subcutaneously on the dorsal surface of severe compromised immune deficient (SCID) mice. Mice were anesthetized with a rodent cocktail consisting of ketamine, xylazine, and acepromazine as previously described [
19
]. The skin and subcutaneous tissue at the incision site was injected with Marcaine local anesthetic at a concentration of 0.025%. After the incision was made on the dorsal surface, up to 9 subcutaneous pockets were expanded by blunt dissection. One cube was placed in each pocket, and the incision was then closed with wound clips. Animals were euthanized after 6 weeks and the cubes were fixed with 10% buffered formalin phosphate. The cube score decreases when hMSCs are diluted with human dermal fibroblasts (non-MSCs) which, are used for controls in these studies [
20
,
28
]. We have published measurements of the secretion of bioactive factors by hMSCs in growth, osteogenesis and in marrow stromagenesis pathways [
30
]. Neither the bioactive secretion assays [
30
] nor the cube scores [
20
,
25
] provide potency assays for hMSCs. The cube scores, however, provide the criteria for documenting the differentiation potential of hMSCs [
31
,
32
]. Table
1
provides the cube scores for the majority of the hMSC preparations used in experiments reported here, showing that the hMSCs appear to be typical [
19
].
Table 1
Cube Score Evaluation of hMSCs Derived from Human Marrow
| hMSC Preparation | Age of Donor | Cell Yield/Plate (× 106) | Cube Score |
| --- | --- | --- | --- |
| 1444 | 25 | 0.7 | Not Done |
| 1446 | 33 | 0.8 | Not Done |
| 1451 | 29 | 1.0 | 1.47 |
| 1450 | 51 | 0.8 | 1.29 |
| 1553 | 30 | 1.19 | 0.78 |
| 1557 | 47 | 1.0 | 1.11 |
| 1568 | 47 | 0.69 | 1.12 |
| 1594 | 28 | 0.79 | 1.17 |
| 1568 | 45 | 0.13 | 1.37 |
Cytokine and Inflammatory Mediator Assessment
BAL and serum differentials were measured in duplicate from each individual mouse (no samples were batched) by cytospins and direct cell counts [
33
]. BAL level of cytokines (R&D Systems, Minneapolis, MN) were assessed by ELISAs and Luminex multiplex assays as previously described [
34
]. Inter and intra assay variability was controlled through the use of high and low quality control standards and standard curve slope comparison using Statlia Technology (San Diego, CA). The lower range of detection was between 3-10 pg/ml depending on the cytokine in evaluation.
Statistics
Group and time point comparisons used repeated measures of analysis of variance (ANOVA) and t-tests. Individual significance levels of 0.05 were used for all tests. The designation of "n" in these studies is based upon the number of experimental times the study was performed. In each experiment, there were 4 groups: saline challenged-no hMSCs, saline challenged-hMSCs, ovalbumin challenged-no hMSCs, ovalbumin challenged-hMSCs. Groups were separated into histology/pathology or bronchoalveolar lavage. Each group of histology/pathology had 3-4 mice. Each group of inflammation had 5-7 mice. Statistics were done based upon the total number of experiments including all of the animals in each of the different groups. In some instances a description identifying "n" versus the numbers of animals in each group is explained for clarity.
Results
Discussion
Acknowledgements
We would like to thank David Carrino for helping in the preparation of this manuscript. We would also like to thank Sung Eun Yang, Brandon Zuchowski and Brian Jennings for the technical help with the asthma model. The funding for this research was graciously provide by the David and Virginia Baldwin Fund, Center for Stem Cell and Regenerative Medicine and the Case Western Reserve Vision Fund.
This article is published under license to BioMed Central Ltd. This is an Open Access article distributed under the terms of the Creative Commons Attribution License (
http://​creativecommons.​org/​licenses/​by/​2.​0
), which permits unrestricted use, distribution, and reproduction in any medium, provided the original work is properly cited.
Competing interests
The authors declare that they have no competing interests.
Authors' contributions
TB directed, analyzed and planned all of the studies. MN carried out the studies and helped with the methods. DL isolated the hMSCs, did the cube scores and provided information on the technology associated with the hMSCs. AC provided insight on the hMSCs impact on the asthma model and the identification of the potential for hMSC efficacy testing. AC laboratory provided the support for the stem cell production, validation and application. All authors read and approved the final manuscript.