01.12.2017 | Research article | Ausgabe 1/2017 Open Access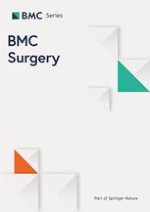 Delayed gastric emptying following pancreatoduodenectomy with alimentary reconstruction according to Roux-en-Y or Billroth-II
Zeitschrift:
Autoren:

Tim R. Glowka, Markus Webler, Hanno Matthaei, Nico Schäfer, Volker Schmitz, Jörg C. Kalff, Jens Standop, Steffen Manekeller
Abstract
Background
Delayed gastric emptying (DGE) remains the most frequent complication following pancreatoduodenectomy (PD) with published incidences as high as 61%. The present study investigates the impact of bowel reconstruction techniques on DGE following classic PD (Whipple-Kausch procedure) with pancreatogastrostomy (PG).
Methods
We included 168 consecutive patients who underwent PD with PG with either Billroth II type (BII,
n
 = 78) or Roux-en-Y type reconstruction (ReY,
n
 = 90) between 2004 and 2015. Excluded were patients with conventional single loop reconstruction after pylorus preserving procedures. DGE was classified according to the 2007 International Study Group of Pancreatic Surgery definition. Patients were analyzed regarding severity of DGE, morbidity and mortality, length of hospital stay and demographic factors.
Results
No difference was observed between BII and ReY regarding frequency of DGE. Overall rate for clinically relevant DGE was 30% (ReY) and 26% (BII). BII and ReY did not differ in terms of demographics, morbidity or mortality. DGE significantly prolongs ICU (four vs. two days) and hospital stay (20.5 vs. 14.5 days). Risk factors for DGE development are advanced age, retrocolic reconstruction, postoperative hemorrhage and major complications.
Conclusions
The occurrence of DGE can not be influenced by the type of alimentary reconstruction (ReY vs. BII) following classic PD with PG. Old age and major complications could be identified as important risk factors in multivariate analysis.
Trial registration
German Clinical Trials Register (DRKS)
DRKS00011860
. Registered 14 March 2017.