13.06.2016 | Clinical Article - Brain Injury | Ausgabe 8/2016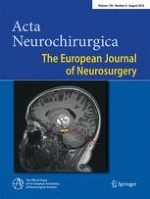 Delayed intraventricular hemorrhage in moderate-to-severe traumatic brain injury: prevalence, associated risk factors, and prognosis
Zeitschrift:
Autoren:

Maria Laleva, Nikolay Gabrovsky, Emilia Naseva, Nikolay Velinov, Stefan Gabrovsky
Wichtige Hinweise
Comment
Intraventricular hemorrhage (IVH) following traumatic brain injury (TBI) is not uncommon being considered as a marker of diffuse axonal damage and unfavorable clinical outcome. Nevertheless, this interesting article on patients with traumatic IVH explores a previously less explored but worthwhile further-to-explore topic in neurotraumatology. Whereas several papers were published on IVH and TBI, this manuscript does indeed appear to include the first reported study to systematically evaluate the incidence of delayed IVH and its impact on prognosis. Although primary as well as secondary onsets of IVH are triggered mainly by the trauma itself, IVH in principal could be both the cause and the result of TBI. Therefore, further underlying pathologies such as vascular malformations and predisposed factors including neurosurgical interventions, coagulopathies, or even extravasation of contrast medium into blood clots should be also taken into account for adequate management of patients with IVH associated with TBI. Apart from native diagnostic CT images for pure detection of existence and amount of IVH, additional examinations such as MRI or computed tomography, magnetic resonance, and cerebral angiography for further etiological clarification of IVH should be considered, especially if intraventricular thrombolytic therapy represents a therapeutic option. The authors should be commended on their efforts at tackling an important bleeding phenomenon and help us to better counsel neurotraumatologists regarding the risk and outcome of IVH in the setting of TBI.
Markus Florian Oertel
Bern, Switzerland
Abstract
Background
The presence of traumatic intraventricular hemorrhage (tIVH) on an admission CT scan is related to a worse outcome and increased mortality in patients with moderate and severe TBI. Currently, there is no available data regarding the predictive value of the appearance of tIVH as a delayed finding on follow-up CT scan. The purpose of this study was to determine the prevalence, associated risk factors, and prognosis of delayed tIVH.
Methods
The study is based on 401 consecutive adult patients (age ≥ 18 years) with moderate-to-severe TBI admitted in our hospital for a 5-year period. At least one control CT was performed in 320 (79.8 %) patients. The prevalence of delayed tIVH was assessed and the potential risk factors and mortality were analyzed.
Results
Delayed tIVH appeared in 38 cases (11.9 % of the second CT scans and 9.5 % of all patients). The patients with delayed tIVH are significantly older (57.39 vs. 48.63 years,
p
 = 0.009) and developed statistically significant more frequent enlargement of an existing lesion (47.4 vs. 20.2 %,
p
 = 0.001) and appearance of a new lesion (100 vs. 33.7 %,
p
 < 0.001). Delayed tIVH appeared significantly more frequent in surgically treated patients with ICH as a main surgical lesion (
p
 = 0.010) and is associated with significantly higher mortality (
p
 < 0.001).
Conclusions
Delayed tIVH as a progression of injury in moderate-to-severe TBI has a relatively high occurrence and is associated with increased mortality. The only factor independently related to a new appearance of tIVH is the presence of ICH as a main surgical lesion on the control preoperative CT scans.