01.12.2017 | Case report | Ausgabe 1/2017 Open Access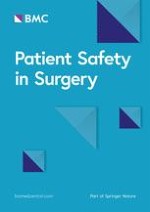 Delayed recognition of an ipsilateral femoral neck and shaft fracture leading to preventable subsequent complications: a case report
Zeitschrift:
Autoren:

Sönke Labza, Isabella Fassola, Benedict Kunz, Wolfgang Ertel, Senat Krasnici
Abstract
Background
Ipsilateral femoral shaft and neck fractures are rare injuries, affecting mostly young patients who sustained high-energy traumas. In 19–50% of cases, the femoral fracture is misdiagnosed or overlooked at the initial presentation, with reportedly increased risk of complications such as non-union and avascular necrosis. We present a case of an ipsilateral femoral neck and shaft fracture, which was missed at initial presentation despite radiographic and computed tomography (CT) scan evaluation.
Case presentation
A 56-year old female was admitted to our institution following a high-energy trauma (fall from 6 m). Initial radiographic and CT scan evaluation revealed a displaced femoral shaft fracture but no other femoral fractures were detected. Closed reduction and external fixation of the femoral shaft fracture was performed in the emergency setting. Follow-up radiologic evaluations revealed an ipsilateral laterally displaced femoral neck fracture. Despite cephalomedullary nail fixation of both fractures performed on the third day from the initial injury, the patient developed a non-union of the femoral neck fracture, which led to cut-out of the lag screw with associated varus failure of the femoral neck fracture requiring surgical revision and implant of a bipolar hemiarthroplasty at one year follow up. The postoperative course was uneventful and the patient had a full long-term recovery.
Conclusion
This case report exemplifies the need to maintain the highest level of suspiciousness for the concomitant presence of an ipsilateral femoral neck fracture when treating polytraumatized patients who sustained a femoral shaft fracture as a consequence of a high-energy trauma. Furthermore, the pre-operative standardized radiological evaluation (plain x-ray and CT scan) might not always help in ruling out these fractures. It is therefore necessary to adopt additional standardized radiographic protocols not only in the pre-operative but also in the intra-operative and immediate post-operative settings.