01.12.2017 | Case report | Ausgabe 1/2017 Open Access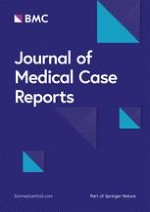 Delayed right chylothorax after left blunt chest trauma: a case report
Zeitschrift:
Autoren:

Jonggeun Lee, Jeong Su Cho, Hoseok I, Yeong Dae Kim
Abstract
Background
Chylothorax is a disease that has various causes such as neoplasm, infection, post-surgery trauma, congenital, and venous thrombosis. In approximately 15% of cases of chylothorax, the exact cause is unknown. We report a case of delayed occurrence of right chylothorax in a patient who had multiple segmental ribs fracture on his left side.
Case presentation
A 70-year-old Asian man had a "rollover" accident in which the cultivator he was driving overturned. He presented to our hospital with the main complaint of severe dyspnea. On chest computed tomography, multiple ribs fracture from the first to the eighth rib of the left side of his chest and left-sided hemopneumothorax were presented, but there was no evidence of fracture in the right side of his chest.
After closed thoracostomy, an emergency operation for open reduction of fractured ribs was performed. On the fifth postoperative day, tubal feeding was performed. On the next day, a plain chest X-ray image showed pleural effusion of the right side of his chest. After insertion of a small-bore chest tube, 3390 ml of fluid for 24 hours was drained. The body fluid analysis revealed triglycerides levels of 1000 mg/dL, which led to a diagnosis of chylothorax. Although non-oral feeding and total parenteral nutrition were sustained, drain amount was increased on the fifth day. Surgical treatment (thoracoscopic thoracic duct ligation and pleurectomy) was performed in the early phase. The right chest tube was removed on the 14th postoperative day after the effusion completely resolved and he was uneventfully discharged.
Conclusions
In this case, as our patient was in old age and had multiple traumas, surgical treatment for chylothorax needed to be performed in the early phase.