01.12.2018 | Research article | Ausgabe 1/2018 Open Access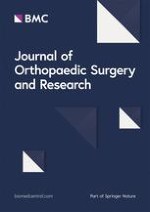 Delayed total hip arthroplasty after failed treatment of acetabular fractures: an 8- to 17-year follow-up study
Zeitschrift:
Autoren:

Tao Wang, Jun-Ying Sun, Jun-Jun Zha, Chao Wang, Xi-Jiang Zhao
Abstract
Background
Delayed total hip arthroplasty (THA) is a reliable procedure following failed treatment of acetabular fractures. The aim of the present study was to evaluate the influence of the type of fracture treatment and modern ceramic bearing on the clinical outcomes of delayed THA.
Methods
Between January 1997 and January 2008, 33 patients (33 hips) underwent cementless THA after failed acetabular fractures. Twenty-one were initially treated by open reduction internal fixation (ORIF) and 12 had non-ORIF. Joint articulation was either conventional metal-on-polyethylene (MOP) or ceramic-on-ceramic (COC). Intraoperative measures and preoperative and follow-up clinical, radiological, and functional outcomes were compared between the ORIF and non-ORIF groups.
Results
Surgery duration, blood loss, and transfusion requirement were greater in the ORIF group than in the non-ORIF group (
p
 < 0.05). Significant improvement in Harris Hip Scores was seen post-surgery in both groups. However, a significant difference in the mean Harris Hip Score was not observed between the two groups (
p
 = 0.57). Six patients in the ORIF group required acetabular reconstructive procedures to address bony defects compared to seven patients in the non-ORIF group (
p
 = 0.09). The rate of anatomical restoration was 58.3% (7/12) in the non-ORIF group and 42.9% (9/21) in the ORIF group (
p
 = 0.12). Radiolucent lines were observed in the MOP group and none in the COC group. Overall survival rate was similar in both groups (
p
 = 0.85): 89.3% in the ORIF group and 87.5% in the non-ORIF group.
Conclusion
Delayed THA with previous acetabular fractures is a challenging procedure. Initial fracture treatment does not influence the outcome of delayed THA, and modern ceramic bearing has promising results in the long-term follow-up.