01.12.2015 | Research article | Ausgabe 1/2015 Open Access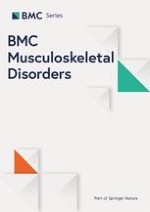 Delivering an Optimised Behavioural Intervention (OBI) to people with low back pain with high psychological risk; results and lessons learnt from a feasibility randomised controlled trial of Contextual Cognitive Behavioural Therapy (CCBT) vs. Physiotherapy
Zeitschrift:
Autoren:

Tamar Pincus, Shamaila Anwar, Lance M. McCracken, Alison McGregor, Liz Graham, Michelle Collinson, John McBeth, Paul Watson, Stephen Morley, Juliet Henderson, Amanda J. Farrin, on behalf of the OBI Trial Management Team
Wichtige Hinweise
Electronic supplementary material
The online version of this article (doi:
10.​1186/​s12891-015-0594-2
) contains supplementary material, which is available to authorized users.
Competing interests
The authors declare that they have no competing interests.
Authors' contributions
TP was the primary investigator, designing and overseeing all stages of the research and the write up. SA was the trial manager, involved in design, data collection and write up. AF, LG and MC were members of the Clinical Trials Unit, and they contributed to aspects of design, data collection, statistical analysis and write up. JH was the field researcher, and contributed to design, data collection and write up. LM was involved in all aspects of the study, including design, training, supervision, analysis and write up. SM, JM, AM and PW were members of the research team, and contributed to design, planned analysis, data collection procedures, and write up. All authors read and approved the final manuscript.
Abstract
Background
Low Back Pain (LBP) remains a common and costly problem. Psychological obstacles to recovery have been identified, but psychological and behavioural interventions have produced only moderate improvements. Reviews of trials have suggested that the interventions lack clear theoretical basis, are often compromised by low dose, lack of fidelity, and delivery by non-experts. In addition, interventions do not directly target known risk mechanisms. We identified a theory driven intervention (Contexual Cognitive Behavioural Therapy, CCBT) that directly targets an evidence-based risk mechanism (avoidance and ensured dose and delivery were optimised. This feasibility study was designed to test the credibility and acceptability of optimised CCBT against physiotherapy for avoidant LBP patients, and to test recruitment, delivery of the intervention and response rates prior to moving to a full definitive trial.
Methods
A randomised controlled feasibility trial with patients randomised to receive CCBT or physiotherapy. CCBT was delivered by trained supervised psychologists on a one to one basis and comprised up to 8 one-hour sessions. Physiotherapy comprised back to fitness group exercises with at least 60 % of content exercise-based. Patients were eligible to take part if they had back pain for more than 3 months, and scored above a threshold indicating fear avoidance, catastrophic beliefs and distress.
Results
89 patients were recruited. Uptake rates were above those predicted. Scores for credibility and acceptability of the interventions met the set criteria. Response rates at three and six months fell short of the 75 % target. Problems associated with poor response rates were identified and successfully resolved, rates increased to 77 % at 3 months, and 68 % at 6 months. Independent ratings of treatment sessions indicated that CCBT was delivered to fidelity. Numbers were too small for formal analysis. Although average scores for acceptance were higher in the CCBT group than in the group attending physiotherapy (increase of 7.9 versus 5.1) and change in disability and pain from baseline to 6 months were greater in the CCBT group than in the physiotherapy group, these findings should be interpreted with caution.
Conclusions
CCBT is a credible and acceptable intervention for LBP patients who exhibit psychological obstacles to recovery.