23.12.2016 | Original Article | Ausgabe 4/2017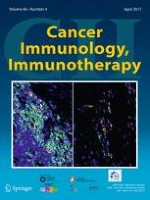 Delivery of foreign cytotoxic T lymphocyte epitopes to tumor tissues for effective antitumor immunotherapy against pre-established solid tumors in mice
Zeitschrift:
Autoren:

Herbert W. Kavunja, Shuyao Lang, Suttipun Sungsuwan, Zhaojun Yin, Xuefei Huang
Wichtige Hinweise
Electronic supplementary material
The online version of this article (doi:
10.​1007/​s00262-016-1948-9
) contains supplementary material, which is available to authorized users.
Herbert W. Kavunja and Shuyao Lang have contributed equally to this work.
Abstract
Cytotoxic T lymphocyte (CTL) can have remarkable abilities to kill tumor cells. However, the establishment of successful CTL-based anticancer therapy has met with many challenges. Within tumor cells, there exist subpopulations with low or no expression of the targeted antigen (termed as antigen-loss variants). In addition, tumor cells can downregulate the levels of major histocompatibility complex class I (MHC-I) molecules on cell surface due to immune pressure. As a result, some tumor cells can escape the immune pressure bestowed by CTLs, resulting in treatment failure. To address these difficulties, a new approach is developed to deliver foreign high-affinity CTL epitopes to tumor tissues utilizing pH-responsive "smart" microparticles (MPs). These MPs could encapsulate CTL peptide epitope, release the peptide under acidic condition encountered in tumor tissues and enhance CTL activation. Mice bearing pre-established tumor as "antigen-loss variant" solid tumor models were administered intratumorally with MPs containing the CTL peptide, which showed 100% survival following the treatment. In contrast, all control mice died from tumor. Significant protection from tumor-induced death was also observed with systemic administration of CTL peptide-MPs. The therapeutic efficacy can be attributed to enhanced delivery of the epitope to tumor tissues, presentation of the epitope by tumor cells as well as tumor stromal cells and/or generation of epitope-specific CTLs by the peptide-containing MPs. These findings offer a promising new direction for treating established solid tumor using CTL therapy.