01.12.2017 | Research | Ausgabe 1/2017 Open Access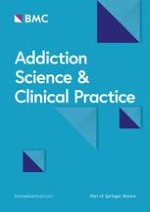 Delivery of screening and brief intervention for unhealthy alcohol use in an urban academic Federally Qualified Health Center
Zeitschrift:
Autoren:

Marcus A. Bachhuber, Megan A. O'Grady, Henry Chung, Charles J. Neighbors, Joseph DeLuca, Elenita M. D'Aloia, Arelis Diaz, Chinazo O. Cunningham
Abbreviations
SBI
screening and brief intervention
CDS
clinical decision support
AUDIT-C
alcohol use disorders identification test consumption questions
Background
With the goal of improving the delivery of evidence-based preventive care, we implemented routine SBI for unhealthy drinking at an adult medicine practice. To build on findings from previous research and utilize practices shown to enhance the success of implementation, our model consisted of nursing staff-delivered SBI with an SBI-focused CDS tool that was piloted and promoted by a physician and nurse champion. To target future improvements, we also conducted an evaluation of this model to determine overall SBI delivery and factors associated with receiving SBI.
Methods
Study setting and population
The study setting is a Federally Qualified Health Center affiliated with our academic institution in the Bronx, NY. It is a multispecialty practice with internal medicine, pediatrics, obstetrics/gynecology, dermatology, podiatry, and dentistry, with onsite behavioral health, laboratory, and radiology services. We implemented SBI in the internal medicine practice which includes 11 Licensed Practical Nurses, two Patient Care Technicians (similar to medical assistants), one Registered Nurse, 15 attending physicians, and 30 resident physicians. Over 9000 unique adult patients attend about 25,000 visits per year.
Model of care
Our model of SBI for unhealthy drinking consisted of annual screening by nursing staff followed by delivery of a BI for patients with unhealthy alcohol use. Patients eligible for screening included all adult patients seen for any type of visit. Nursing staff performed screening prior to patients' visits with physicians, at the same time they measured vital signs and weight. If a BI was warranted, nursing staff performed it immediately after screening, before physician encounters.
To improve delivery of SBI, we developed a CDS tool integrated into our EHR (Centricity Electronic Medical Record version 9.8) consisting of three components: (1) a clinical reminder for screening, (2) screening questions and fields to record answers, and (3) prompts for BI and a field to record delivery. For the clinical reminder, we integrated it into the note in the same location as reminders for other preventive services (e.g., colorectal cancer screening). The reminder was not a "hard stop" and could be ignored; if ignored, it would appear again at patients' next visit. If screening was performed, the reminder would not appear for 1 year. Clicking on the reminder activated the screening questions. While our model of SBI relied on nursing staff, the clinical reminder was visible to physicians and could be completed by them; however, anecdotally, this was rare due to competing clinical priorities.
To screen, nursing staff used the alcohol use disorders identification test consumption questions (AUDIT-C) [
19
,
20
]: (1) "How often did you have a drink containing alcohol in the past year?"; (2) "How many drinks did you have on a typical day when you were drinking in the past year?"; and (3) "How often did you have six or more drinks on one occasion in the past year?" Each item is scored from 0 to 4 points (total possible score = 0–12 points). For women scoring ≥ 3 points, a question appeared asking, "Does the drinking level exceed 7 drinks per week?"; for men scoring ≥ 4 points, the question read "Does the drinking level exceed 14 drinks per week?" [
21
]. We included questions about exceeding weekly limits because the AUDIT-C does not map precisely on to recommended drinking limits. Based on the patient's score, nursing staff were prompted to provide a verbal BI, referral to behavioral health staff (e.g., social work), a verbal notification to the patient's physician, or combinations of the above. The SBI algorithm and the specific BI components delivered by nursing staff at each AUDIT-C score are shown in Fig.
1
.
×
Prior to implementation, we piloted the CDS tool and screening procedure with a nurse champion. The purpose of this step was to test the CDS tool, determine if nursing staff would be able to screen patients while collecting vital signs and chief complaint, determine the time it took to screen, and gauge patients' responses. In addition to the nurse champion, an attending physician champion specializing in addiction medicine also took a lead role in testing and suggesting changes to the CDS tool. Furthermore, we involved the medical director and other administrative and clinical staff at the clinic throughout the piloting phase to ensure that all staff affected by this new practice could give feedback. After the pilot, we trained the 12 members of the nursing staff as well as attending and resident physicians in separate 1-h meetings. These meetings covered the rationale for screening for unhealthy alcohol use, best practices in administering the AUDIT-C, the evidence supporting the benefit of BI, the overall framework of BI and best practices in administering BI, and the practicalities of SBI at the clinic including the workflow.
Evaluation and data collection
To evaluate implementation, we extracted data on all adult medicine patients seen within 1 year after implementation of routine SBI (October 2013–September 2014). From the EHR, we extracted patient data (e.g., demographics), visit data (e.g., visit diagnoses), and results of the screener (e.g., the AUDIT-C score and whether a BI was performed).
Main outcome measures
Our main outcomes were documentation of screening, screening positive for unhealthy drinking, and documentation of BI provision. While nurses were instructed to provide BIs according to the algorithm (Fig.
1
), we were unable to extract EHR data from the question about exceeding weekly limits; therefore, in the evaluation we considered an AUDIT-C score of ≥ 4 as a positive screen for both men and women. Of all women, 93 received an AUDIT-C score of 3 points and some of those would have ultimately been considered a positive screen at their visit (i.e., if they also exceeded weekly limits) and been eligible to receive a BI.
Visit and patient factors
From EHR data, we coded several visit and patient factor variables. For visits, we collected the type of visit (e.g., new patient, established patient, or urgent care/walk-in) and the month in which the visit occurred. New patient visits were defined as the patient's first ever visit to the clinic or the patient's first visit with a new provider (i.e., transition of care). For patient sociodemographics, we collected age, sex, race/ethnicity, and preferred language. Finally, we identified patients' chronic medical conditions using visit diagnoses (i.e., diagnoses coded as actively addressed) grouped into clinically meaningful categories using established coding schemes [
22
].
Statistical analysis
First, we summarized patient characteristics using descriptive statistics. Next, we determined the number and percentage of patients screened overall and in each month, the number and percentage screening positive, and the number and percentage of patients screening positive who received a BI.
We then determined visit and patient factors associated with being screened, screening positive, and receiving a BI if screening positive. We created three separate multivariable logistic regression models. In the first model, to determine visit and patient factors associated with being screened, the dependent variable was whether the patient was screened. To account for the possibility of patients having multiple visits over the study period, we used person-visit as the unit of analysis, using a generalized estimating equations model accounting for clustering at the patient level and producing robust standard errors. We included visit type (new patient, established patient, or urgent care/walk-in), visit month, and all patient factors as independent variables. In the second model, to determine patient factors associated with screening positive for unhealthy drinking, the dependent variable was the presence of a positive screen among those who were screened. Because of a reduced sample size and collinearity, we removed race/ethnicity from the model and combined several categories for language, visit type, and chronic conditions. In the third model, to determine patient factors associated with receiving a BI among those screening positive, the dependent variable was the documentation of BI among those screening positive. The independent variables were similar to the previous model with the addition of AUDIT-C score. For the second and third model, we analyzed only the visit at which screening was performed (i.e., only one visit per patient); therefore, the unit of analysis in these models is the patient.
We evaluated the associations of patient factors with outcomes in terms of odds ratios and 95% confidence intervals (95% CIs). We also used predictive margins to describe each factor's association with outcomes in terms of the difference in probability of the outcome (in percentage points) compared to the referent group, after adjusting for all other factors. We conducted all analyses with SAS 9.4 (Cary, NC) and Stata 13.1 (College Station, TX).
Results
Discussion
This study has limitations. First, because of EHR limitations, we could not identify individual nursing staff or physicians providing SBI. As provider factors may be more important than visit and patient factors in determining which patients receive SBI, future research is needed to assess providers' impact. We also could not extract results for the question asking about weekly drinking limits which required us to use a nonstandard threshold for unhealthy drinking for women. This limitation of our data may have led to biased estimates of factors associated with screening positive and factors associated with receiving a BI; the bias could be in either direction. While BI provision was documented in the EHR, we did not assess fidelity to recommended BI framework. Our ability to examine the impact of race/ethnicity on screening and receipt of a BI was limited by the large number of patients with this variable recorded as "undetermined". Because our goal was to deliver SBI, we did not have a comparison group. Furthermore, SBI was not routinely provided prior to our study and the AUDIT-C questions were not available in the EHR, which also makes historical controls unavailable. Finally, during the study period, referrals to behavioral health providers were paper-based and therefore we cannot determine the number of patients referred after screening positive.
Conclusions
In a Bronx Federally Qualified Health Center without dedicated grant-funded personnel, we integrated a model of nursing staff-delivered routine SBI for unhealthy drinking into primary care. Almost half of the patients presenting for one or more visit were screened, and of those who screened positive, over half received a BI. Patient characteristics including older age, female sex, and chronic illnesses were associated with lower odds of screening; non-English language was associated with lower odds of receiving a BI. While integrating SBI into routine primary care by nursing staff can lead to moderate screening rates, it is important to ensure that SBI is delivered to patients who could clinically benefit most (e.g., those with chronic diseases impacted by unhealthy alcohol use). Health care facilities need to continue to integrate models of SBI that are comprehensively delivered to patients in routine primary care.
Authors' contributions
All authors contributed to the conception and design of this work; MB and CC acquired and analyzed the data; all authors contributed to the interpretation of the data as well as drafting and/or revising the work for important intellectual content. All authors read and approved the final manuscript.
Competing interests
HC has served as a consultant to Merck Pharmaceuticals, Takeda Pharmaceuticals and Sunovion Pharmaceuticals. The authors declare that they have no competing interests.
Availability of data and materials
The datasets used and/or analyzed during the current study are not publicly available due to the sensitive nature of the subject matter and potential for breach of confidentiality.
Ethics approval and consent to participate
This study was approved by the Montefiore Medical Center/Albert Einstein College of Medicine Institutional Review Board (2014-3892) with a waiver of informed consent.
Funding
This work was funded in part by research Grants from the National Institute on Drug Abuse of the National Institutes of Health (K24DA036955 and R01DA032110) and from The New York State Health Foundation (#3235651).
Publisher's Note
Springer Nature remains neutral with regard to jurisdictional claims in published maps and institutional affiliations.
Open Access
This article is distributed under the terms of the Creative Commons Attribution 4.0 International License (
http://​creativecommons.​org/​licenses/​by/​4.​0/​
), which permits unrestricted use, distribution, and reproduction in any medium, provided you give appropriate credit to the original author(s) and the source, provide a link to the Creative Commons license, and indicate if changes were made. The Creative Commons Public Domain Dedication waiver (
http://​creativecommons.​org/​publicdomain/​zero/​1.​0/​
) applies to the data made available in this article, unless otherwise stated.