13.02.2019 | Original Paper | Ausgabe 4/2019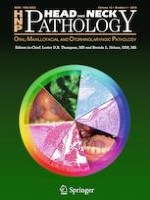 Demographic and Clinical Characteristics of 5294 Jaw Cysts: A Retrospective Study of 38 Years
Zeitschrift:
Autoren:

Paris Tamiolakis, Grigorios Thermos, Konstantinos I. Tosios, Alexandra Sklavounou-Andrikopoulou
Wichtige Hinweise
This study was presented as poster presentation in the 14th Biennial Congress of the European Association of Oral Medicine (EAOM).
Publisher's Note
Springer Nature remains neutral with regard to jurisdictional claims in published maps and institutional affiliations.
Abstract
The aim of the present study is to report the demographic and clinical characteristics of all jaw cysts diagnosed in a single Oral Pathology Department. 5294 cases of jaw cysts diagnosed during a 38-year period were retrospectively collected and classified according to the latest classification of Head and Neck Tumors of the World Health Organization. The patients' gender and age, as well as the main clinical features of the cysts were retrieved from biopsy report forms. Jaw cysts were more common in male patients, with a male to female ratio of 1.6:1. Most patients were in the 4th–6th decade of life, with a mean age of 42.3 ± 16.1 years. There was no jaw predilection and the majority of lesions were more commonly encountered in the anterior region of the maxilla, followed by the molar region of the mandible. The most common jaw cyst was radicular cyst followed by dentigerous cyst, residual cyst and odontogenic keratocyst. The majority of jaw cysts are of inflammatory origin and represent a sequale of pulp necrosis. However, other type of jaw cysts may also be found.