25.06.2018 | Focussed Research Review | Ausgabe 12/2018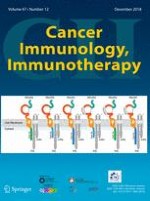 Dendritic cell trafficking in tumor-bearing mice
Zeitschrift:
Autoren:

Sarah C. Krzastek, Ekaterine Goliadze, Shaoqing Zhou, Albert Petrossian, Fatma Youniss, Gobalakrishnan Sundaresan, Li Wang, Jamal Zweit, Georgi Guruli
Wichtige Hinweise
This paper is a Focussed Research Review based on a presentation given at the
Fifth International Conference on Cancer Immunotherapy and Immunomonitoring
(CITIM 2017), held in Prague, Czech Republic, 24th–27th April 2017. It is part of a series of Focussed Research Reviews and meeting report in
Cancer Immunology, Immunotherapy
.
Abstract
Prostate cancer is one of the leading causes of cancer deaths, with no curative treatments once it spreads. Alternative therapies, including immunotherapy, have shown limited efficacy. Dendritic cells (DC) have been widely used in the treatment of various malignancies. DC capture antigens and move to the lymphoid organs where they prime naive T cells. Interaction between DC and T cells are most active in lymph nodes and suppression of DC trafficking to lymph nodes impairs the immune response. In this work, we aimed to study trafficking of DC in vivo via various routes of delivery, to optimize the effectiveness of DC-based therapy. A DC labeling system was developed using 1,1′-dioctadecyltetramethyl indotricarbocyanine Iodine for in vivo fluorescent imaging. DC harvested from C57B/6 mice were matured, labeled, and injected intravenously, subcutaneously, or intratumorally, with or without antigen loading with whole tumor lysate, into C57B/6 mice inoculated with RM-1 murine prostate tumor cells. Signal intensity was measured in vivo and ex vivo. Signal intensity at the tumor site increased over time, suggesting trafficking of DC to the tumor with all modes of injection. Subcutaneous injection showed preferential trafficking to lymph nodes and tumor. Intravenous injection showed trafficking to lungs, intestines, and spleen. Subcutaneous injection of DC pulsed with whole tumor lysate resulted in the highest increase in signal intensity at the tumor site and lymph nodes, suggesting subcutaneous injection of primed DC leads to highest preferential trafficking of DC to the immunocompetent organs.