01.06.2014 | Case Report | Ausgabe 3/2014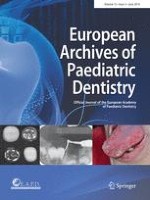 Dental abnormalities and preventive oral care in Schimke immuno-osseous dysplasia
Zeitschrift:
Autoren:

M. Gendronneau, O. Kérourédan, S. Taque, J. L. Sixou, M. Bonnaure-Mallet
Wichtige Hinweise
M. Gendronneau and O. Kérourédan contributed equally to this work.
Abstract
Background
Schimke immuno-osseous dysplasia (SIOD) is a rare, severe, autosomal recessive disorder that results in spondyloepiphyseal dysplasia, renal dysfunction, immunodeficiency, facial dysmorphism and growth failure. Little is known about oral features associated with SIOD. Some of the dental anomalies encountered are specific to SIOD and have only been reported in individuals with SIOD.
Case report
This paper describes the clinical and radiographic dental manifestations of SIOD in two Caucasian brothers. Both lived to be about 10 years old. After a variety of symptoms were reported, a diagnosis of SIOD was finally made when the brothers were, respectively, 5 and 8 years old. At that time, dental anomalies, such as dyschromia, bulbous crowns, short and thin roots, had not been taken into account to establish the diagnosis. However, knowledge of the dental features characteristic of this disease could have helped make the diagnosis. Although both were caries- and periodontal disease-free, special attention was focused on prevention, including dietary counselling, plaque control, oral hygiene instructions and the use of fluoridated toothpaste.
Follow-up
The two patients were followed every 6 months, for over 2 years (until their death), by both a private dentist and a university hospital dentist, which helped them maintain good oral health. Oral hygiene was assessed at each appointment and fissure sealants were placed by the private practitioner on their first permanent molars.
Conclusion
This report describes dental anomalies specific to SIOD that could facilitate diagnosis. Clinicians and dentists should work in collaboration to diagnose and treat children with SIOD. These patients require regular and specific dental management because of their fragile health and their characteristic dental anomalies. Ideally, preventive visits should be scheduled every 6 months in addition to curative visits as needed.