05.06.2020 | Otology | Ausgabe 2/2021 Open Access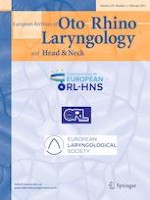 Depressive symptoms affect short- and long-term speech recognition outcome in cochlear implant users
Zeitschrift:
Autoren:

Katharina Heinze-Köhler, Effi Katharina Lehmann, Ulrich Hoppe
Wichtige Hinweise
The study was approved by the Friedrich-Alexander-Universität Erlangen-Nürnberg ethics committee (No. 162_17 Bc) in view of the retrospective nature of the study and all the procedures being performed were part of the routine care.
Publisher's Note
Springer Nature remains neutral with regard to jurisdictional claims in published maps and institutional affiliations.
Abstract
Purpose
To investigate the impact of the amount of depressive symptoms in cochlear implant (CI) recipients on the development of speech recognition after CI-activation up to 2 years.
Design
Retrospective data analysis of a German short form of the Beck Depression Inventory given at initial activation of the implant in relation to monosyllabic word recognition score at conversational level at initial activation and at 3 months, 1 and 2-year follow-up measurements.
Study sample
Thirty-one CI-patients (11 female, 20 male) aged between 41 and 83 (
M
 = 64.77, SD = 10.43) who were German native speakers, postlingually deafened, with severe hearing loss in both sides but unilaterally implanted (19 right-sided, 12 left-sided).
Results
The amount of depressive symptoms at initial activation was negatively correlated with the monosyllabic recognition score after 3 months and after 1 year of implant use.
Conclusion
The psychological status in terms of depressive symptoms is an important parameter regarding the rehabilitative outcome of CI-patients. Care staff and CI-users should be sensitized to the link between depressive symptoms and the development of speech recognition with CI.