12.09.2019 | Full length manuscript | Ausgabe 6/2019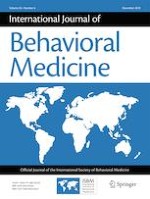 Depressive Symptoms Mediate the Relationship between Emotional Cutoff and Type 2 Diabetes Mellitus
Zeitschrift:
Autoren:

Ami Cohen, Ora Peleg, Amira Sarhana, Shany Lam, Iris Haimov
Wichtige Hinweise
Electronic supplementary material
Ami Cohen and Ora Peleg contributed equally to this work.
Publisher's Note
Springer Nature remains neutral with regard to jurisdictional claims in published maps and institutional affiliations.
Abstract
Background
Differentiation of self is a family systems construct defined as the ability to balance intimacy and autonomy and to separate instinctually driven emotional reactions and thoughtfully considered goal-directed functioning. In theory, low differentiation of self is reflected by four components: a low tendency to take an I-position in relationships (i.e., to own one's thoughts and feelings); emotional cutoff from others; a greater tendency to fuse with others; and a tendency towards emotional reactivity. Low differentiation of self is associated with anxiety and depression, which are risk factors for type 2 diabetes mellitus. The current study examines the relationship between differentiation of self and type 2 diabetes mellitus.
Method
Individuals with type 2 diabetes mellitus (
N
 = 107) and healthy individuals (
N
 = 145) completed the Differentiation of Self Inventory-Revised (DSI-R), the State-Trait Anxiety Inventory (STAI), and the Beck Depression Inventory (BDI-II).
Results
Compared with healthy individuals, participants with type 2 diabetes had more severe depressive symptoms, higher levels of emotional cutoff, and a lower tendency to take an I-position, but had similar levels of trait anxiety, emotional reactivity, and fusion with others (factor analysis revealed these factors were not separable in the current sample and thus were merged into a single construct). Importantly, the severity of depressive symptoms mediated the relationship between emotional cutoff and being in the type 2 diabetes study group rather than the healthy group.
Conclusion
These findings suggest a new perspective on the role of psychological patterns in type 2 diabetes mellitus development and progression.