01.12.2014 | Research article | Ausgabe 1/2014 Open Access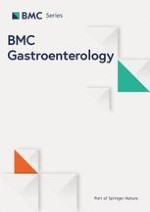 Deregulated expression of Nucleophosmin 1 in gastric cancer and its clinicopathological implications
Zeitschrift:
Autoren:

Mariana Ferreira Leal, Tatianee Katsue Furuya Mazzotti, Danielle Queiroz Calcagno, Priscilae Daniele Ramos Cirilo, Margarita Cortes Martinez, Samia Demachki, Paulo Pimentel Assumpção, Roger Chammas, Rommel Rodríguez Burbano, Marília Cardoso Smith
Wichtige Hinweise
Electronic supplementary material
The online version of this article (doi:
10.​1186/​1471-230X-14-9
) contains supplementary material, which is available to authorized users.
Competing interests
The authors declare that they have no competing interests.
Authors' contributions
MFL, RC, RRB and MACS conceived and designed the experiments. MFL was involved in literature search, genetic and statistical analysis. TKFM, PDRC and MCM were involved in immunohistochemistry analysis. MFL and DQC were involved in data collection. SD was responsible for pathology analysis. PPA was responsible by samples collection. MFL wrote the first draft of the manuscript. All authors listed have contributed to all subsequent drafts, and have approved the final manuscript.
Abstract
Background
The process of gastric carcinogenesis still remains to be elucidated. The identification of genes related to this process may help to reduce mortality rates through early diagnosis and the development of new anticancer therapies. Nucleophosmin 1 (NPM1) acts in ribosome biogenesis, centrosome duplication, maintenance of genomic stability, and embryonic development. Recently, NPM1 has been implicated in the tumorigenesis processes. Here, we evaluated NPM1 gene and protein expression in gastric tumors and in corresponding non-neoplastic gastric samples.
Methods
NPM1 protein expression was determined by Western blot in 17 pairs of gastric tumors and corresponding non-neoplastic gastric tissue. The protein immunoreactivity was observed in 12 tumor samples. mRNA expression was evaluated by reverse transcription quantitative polymerase chain reaction (RT-qPCR) in 22 pairs of gastric tumors and in matched non-neoplastic gastric tissue.
Results
NPM1 protein expression was significantly reduced in gastric cancer samples compared to matched non-neoplastic gastric samples (
P
 = 0.019). The protein level of NPM1 was reduced at least 1.5-fold in 35% of tumors compared to paired non-neoplastic gastric tissue. However, NPM1 immunoreactivity was detected in neoplastic and non-neoplastic cells, including in intestinal metaplastic, gastritis and inflammatory cells. NPM1 was mainly expressed in nucleus and nucleolus subcellular compartments. The staining intensity and the percentage of immunoreactive cells varied among the studied cases. The
NPM1
mRNA level was reduced at least 1.5-fold in 45.5% of samples and increased in 27.3% of samples. An inverse correlation between protein and mRNA expression was detected (r = -0.509,
P
 = 0.037). Intestinal-type gastric cancer presented higher mRNA levels than diffuse-type (
P
 = 0.026). However, reduced NPM1 protein expression was associated with intestinal-type gastric cancer compared to matched non-neoplastic gastric samples (
P
 = 0.018). In addition, tumors from patients with known distant metastasis presented reduced NPM1 protein levels compared to tumors from patients without distant metastasis (
P
 < 0.001).
Conclusion
Although the expression of NPM1 is heterogeneous in gastric tumors, our results suggest that NPM1 down-regulation may have a role in gastric carcinogenesis and may help in the selection of anticancer treatment strategies.