05.12.2020 | Original Research | Ausgabe 1/2021 Open Access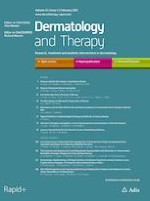 Dermatologic Manifestations, Histologic Features and Disease Progression among Cutaneous Lupus Erythematosus Subtypes: A Prospective Observational Study in Asians
Zeitschrift:
Autoren:

Kumutnart Chanprapaph, Jutamas Tankunakorn, Poonkiat Suchonwanit, Suthinee Rutnin
Wichtige Hinweise
Supplementary Information
Abstract
Introduction
Cutaneous manifestations are central to the primary diagnosis of systemic lupus erythematosus (SLE). However, information on the clinical, histopathologic, and direct immunofluorescence (DIF) features among subtypes of cutaneous lupus erythematosus (CLE), as well as longitudinal prospective observational study to evaluate the natural history and the progression to SLE, is lacking among Asians. Our objectives are to summarize the differences in the clinical, histopathologic, and DIF characteristics and serological profiles between various subtypes of CLE, and to provide its natural history and the association with disease activity in our Asian population.
Methods
A prospective observational study on CLE patients was performed between May 2016 and May 2020. Patients underwent full physical/dermatologic examination, skin biopsy for histology, and DIF. Systemic Lupus Erythematosus Disease Activity Index 2000 (SLEDAI-2K) scores and laboratory data were evaluated. Time schedule and characteristics for resolution and/or the disease progression to SLE were recorded in subsequent follow-ups.
Results
Of 101 biopsy-proven CLE patients, 25 had acute CLE (ACLE), 8 had subacute CLE (SCLE), 39 had chronic CLE (CCLE) only, 22 had CCLE with SLE, and 7 had LE-nonspecific cutaneous lesions only. Patients with exclusive CLE showed lower female preponderance, serological abnormalities, and correlation to systemic disease. However, when CLE was accompanied with any LE-nonspecific cutaneous manifestations, they were associated with high antinuclear antibody (ANA) titer, renal, hematologic, joint involvement, and greater SLEDAI score. Of 207 biopsy sections, SCLE/CCLE regardless of systemic involvement showed significantly higher percentage of superficial/deep perivascular and perieccrine infiltration than ACLE. On DIF, deposition of multiple immunoreactants was associated with higher systemic disease. Approximately 10% of CLE-only patients later developed SLE but had mild systemic involvement.
Conclusion
Our findings support that each CLE subtype has a diverse and unique character. Comprehensive understanding of the differences among CLE subtypes is important for achieving the correct diagnosis and providing appropriate disease monitoring and management.