01.11.2018 | Skin Cancer (T Ito, Section Editor) | Ausgabe 11/2018 Open Access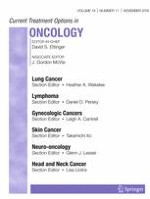 Dermatoscopy of Neoplastic Skin Lesions: Recent Advances, Updates, and Revisions
Zeitschrift:
Autoren:

MD Philipp Weber, MD, PhD Philipp Tschandl, MD Christoph Sinz, MD Harald Kittler
Wichtige Hinweise
This article is part of the Topical Collection on
Skin Cancer
Opinion statement
Dermatoscopy (dermoscopy) improves the diagnosis of benign and malignant cutaneous neoplasms in comparison with examination with the unaided eye and should be used routinely for all pigmented and non-pigmented cutaneous neoplasms. It is especially useful for the early stage of melanoma when melanoma-specific criteria are invisible to the unaided eye. Preselection by the unaided eye is therefore not recommended. The increased availability of polarized dermatoscopes, and the extended use of dermatoscopy in non-pigmented lesions led to the discovery of new criteria, and we recommend that lesions should be examined with polarized and non-polarized dermatoscopy. The "chaos and clues algorithm" is a good starting point for beginners because it is easy to use, accurate, and it works for all types of pigmented lesions not only for those melanocytic. Physicians, who use dermatoscopy routinely, should be aware of new clues for acral melanomas, nail matrix melanomas, melanoma in situ, and nodular melanoma. Dermatoscopy should also be used to distinguish between different subtypes of basal cell carcinoma and to discriminate highly from poorly differentiated squamous cell carcinomas to optimize therapy and management of non-melanoma skin cancer. One of the most exciting areas of research is the use of dermatoscopic images for machine learning and automated diagnosis. Convolutional neural networks trained with dermatoscopic images are able to diagnose pigmented lesions with the same accuracy as human experts. We humans should not be afraid of this new and exciting development because it will most likely lead to a peaceful and fruitful coexistence of human experts and decision support systems.