01.02.2020 | Observational Research | Ausgabe 2/2020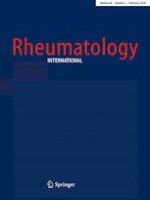 Description of the resources for rheumatology training and speciality certification and recertification requirements in Argentina
Zeitschrift:
Autoren:

Marina Laura Micelli, Gabriel Sequeira, Nauan Fara, Leila Abbas, Natalia Estrella, Magdalena Acevedo, Eduardo Kerzberg
Wichtige Hinweise
Publisher's Note
Springer Nature remains neutral with regard to jurisdictional claims in published maps and institutional affiliations.
Abstract
The objective of the study was to analyse resources for rheumatology training, and speciality certification and recertification requirements in Argentina. Information was gathered regarding vacancies, entry requirements, duration and validity of the specialist degree in every residency and postgraduate course in adult rheumatology. The following aspects were analysed: monitoring authority, certification and recertification requirements, and mandatory recertification. Six out of 36 universities offer rheumatology postgraduate courses. Out of 65 vacancies, 36 (55%) are implemented by a National Public University in the Autonomous City of Buenos Aires (CABA), and 46 (70%) are in CABA. There are 32 vacancies for rheumatology residencies in 7 out of 24 districts, 16 of them (50%) in CABA. There are 2- to 3-year postgraduate courses; entry requirements range from 1-year experience in internal medicine to either complete residency or specialist degree in internal medicine. Training formats vary from full-time university residency to either university-based courses with part-time dedication in a rheumatology service without residency or non-university courses with part-time dedication. Not every specialist degree is automatically homologated in every jurisdiction. Provincial governments and colleges of physicians are the certification and recertification authorities; medical school was included in one district. Recertification is mandatory in only 8 districts; 40–50% of the process is achieved by merely practising as a rheumatologist. Most of the training resources are concentrated in CABA. Although there are various options, not all of them are automatically homologated. Recertification is not mandatory nationwide, and a significant part of the process involves practising as a rheumatologist.