01.12.2018 | Study protocol | Ausgabe 1/2018 Open Access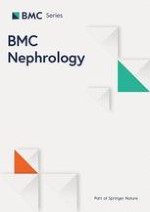 Design and methods of the REMOVAL-HD study: a tRial Evaluating Mid cut-Off Value membrane clearance of Albumin and Light chains in HaemoDialysis patients
Zeitschrift:
Autoren:

R. Krishnasamy, C. M. Hawley, M. J. Jardine, M. A. Roberts, Y. J. Cho, M. G. Wong, A. Heath, C. L. Nelson, S. Sen, P. F. Mount, E. M. Pascoe, D. Darssan, L. A. Vergara, P. A. Paul-Brent, N. D. Toussaint, D. W. Johnson, C. A. Hutchison
Abstract
Background
Removal of uraemic toxins is inadequate using current dialysis strategies. A new class of dialysis membranes have been developed that allow clearance of larger middle molecules. The REMOVAL-HD study (a tRial Evaluating Mid cut-Off Value membrane clearance of Albumin and Light chains in HaemoDialysis patients) will address safety, efficacy and the impact on patient-centred outcomes with the use of a mid cut-off (MCO) dialyser in a chronic haemodialysis (HD) population.
Methods
REMOVAL-HD is an open label, prospective, non-randomised, single-arm, multi-centre device study in 85 chronic HD participants. All visits will be conducted during regular HD sessions and participants will undergo a 1 month wash-in period using a standardised high flux dialyser, 6 months of intervention with a MCO dialyser and 1 month of wash-out using a high flux dialyser. The primary endpoint is change in pre-dialysis concentrations of serum albumin, with secondary endpoints including the efficacy of clearance of free light chains and β-2 microglobulin, and patient-centred outcomes including quality of life, symptom burden, functional status, nutritional status, hospitalisation and death.
Discussion
MCO dialysers are a novel form of HD membrane. The REMOVAL-HD study is a pivotal study designed to monitor the immediate and medium-term effects following exposure to this dialyser.
Trial registration
Australian New Zealand Clinical Trials Registry Number (ANZCTRN)
12616000804482
. Date of registration - 21/06/2016.