01.12.2012 | Study protocol | Ausgabe 1/2012 Open Access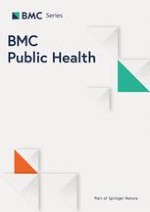 Design of a multicentered randomized controlled trial on the clinical and cost effectiveness of schema therapy for personality disorders
Zeitschrift:
Autoren:

Lotte LM Bamelis, Silvia MAA Evers, Arnoud Arntz
Wichtige Hinweise
Electronic supplementary material
The online version of this article (doi:
10.​1186/​1471-2458-12-75
) contains supplementary material, which is available to authorized users.
Competing interests
The authors declare that they have no competing interests.
Authors' contributions
All authors participated in the design of the study. AA obtained funding for this study. All authors drafted, read and approved the final manuscript.
Abbreviations
ADP-IV
Assessment of DSM-IV Personality Disorders Questionnaire
BPD
Borderline personality disorder
CBS
Central Bureau of Statistics
CEA
Cost effectiveness analysis
CEAC
Cost effectiveness acceptability curve
COP
Clarification oriented psychotherapy
DSM-IV
Diagnostic Statistical Manual 4th edition
GAF
Global Assessment of Functioning
ICC
Intra class correlation coefficient
MSGO
Miskimins Self Goal Other
QALY
Quality Adjusted Life Years
RCT
Randomized controlled trial
SCID
Structured clinical interview for DSM-IV Disorders
SOFAS
Social and Occupational Functioning Scale
TFP
transference-focused psychotherapy
WSAS
Work and Social Adjustment Scale
WHOQOL
World Health Organisation Quality of Life Questionnaire.
Background
The following research questions are defined:
Effectiveness study
How do ST and COP compare to TAU, in terms of recovery from PD-diagnosis, reduction of psychopathological symptoms and improvement of quality of life?
Are these new treatments better in retaining patients in therapy than TAU?
Economic evaluation
From a societal perspective, are ST and COP preferable to TAU in terms of costs, effects and utilities?
Patient and therapist perspectives
What do patients and therapists believe to be helpful and not helpful factors in the ST protocol?
Based on the superiority of ST found in previous research, we hypothesize that (a) ST shows greater clinical improvement than TAU, and (b) seen from a societal perspective, ST is more cost effective in terms of costs and utilities. Similarly, we test whether another specialized treatment of PD, COP, is superior to TAU in these respects.
Methods
This trial includes a clinical effectiveness study, an economic evaluation and a qualitative research part regarding patient and therapist perspectives on ST.
Discussion
Personality disorders (PDs) are complex mental health problems associated with low levels of quality of life, high health care and general society costs, and poor prognosis. Psychological treatment is considered to be the treatment of choice, but research into the clinical and cost effectiveness is sparse and strongly focused on borderline PD. The current study aims to study the effectiveness of schema therapy (ST) compared to treatment as usual (TAU) for 6 PDs not so often studied: cluster-C (i.e. avoidant, dependent, obsessive-compulsive), paranoid, histrionic and narcissistic PD. As an additional control another specialized treatment, clarification oriented psychotherapy (COP), is added as a third condition in 3 of the 12 participating centers.
Methodological considerations
For our study, a large group of patients and cooperation with many different mental health institutes is necessary. The large number of patients and centers included makes generalizability to population level credible. Following a group of PD patients for a 3 year period in an RCT design is unique in the field. Recommendations for psychotherapy research for personality disorders [
48
] are taken into account, such as: (a) long duration of treatment and follow up measurement, giving the opportunity to study core characterological change rather than symptomatic change, (b) use of psychometrically sound and well-known outcome measures, and (c) naturalistic ST and COP protocols, resembling real clinical practice better than tight and detailed manuals.
Several limitations and possible pitfalls should be noted. First, due to time restrictions on the inclusion period, the diagnostic profile of patients is mainly determined by the natural flow of patients at local sites. A possibly uneven distribution between the 6 PDs under study is a consequence of that, which might limit the possibilities to draw conclusions on PDs with small numbers. Second, comparing an experimental treatment condition with treatment as usual sets boundaries to the possibility to control for various potentially influencing factors (e.g. uneven duration of treatment, frequency of sessions, etc.). We try to overcome this by adding a second experimental condition (COP). The choice for TAU has merits and demerits. For relatively new treatments such as ST a comparison to treatment as usual is a valuable first step: one would at least require that a new treatment excels existing practice. TAU includes in our study potentially many different treatments, which reduces the kind of control experimental psychologists would like to see (e.g., of factors like attention, frequency, expectations, etc.). On the other hand, the external validity of the control condition is increased, and TAU is optimized by having clinicians making decisions on what type of regular treatment to offer (e.g., see [
85
] for evidence that intakers can predict effectiveness of psychodynamic therapy). Moreover, for cost-effectiveness the comparison of a new treatment to usual practice is the gold standard [
86
].
Another important problem potentially affecting the quality of the study is created by the organizational scale of a trial in which so many parties (sites, patients, therapists, coordinators, and research assistants) are involved. The study's scale and the limited financial resources preclude the possibilities for continuous and close monitoring and steering. During the trial, researchers and centers need the capacity and flexibility to overcome numerous problems, e.g. insufficient inclusion, loss of participating centers/research assistants/therapists and the enrolment of new ones, inadequate execution of study protocol, etc. The large scale of the study, at least for psychotherapy research, reduces possibilities to intensively supervise and control treatment delivery. In that sense, the present study is a true effectiveness study, differing from highly controlled efficacy studies.
As to the assessments, we choose for independent and blinded interviewers for assessing the primary outcome. Whilst this is a strong point, financial and logistic limitations preclude that secondary interview outcomes and the cost-interview are taken by blinded research assistants. Lastly, the primary outcome is defined by absence of PD at 3-yr follow-up, operationalized by not meeting criteria for a PD on the SCID-II. This is a bit lenient criterion, and therefore we assess sensitivity of results by a reanalysis with a stricter criterion, that is the absence of full and subthreshold PDs.
Conclusion
Schema therapy is gaining interest worldwide as a treatment for personality disorders. However, its effectiveness for most personality disorders is so far unknown. This study gives a unique opportunity to fill this gap of knowledge by combining clinical and cost effectiveness analyses within a large group of PD patients.
Acknowledgements
We thank Jeffrey Young (ST), Olivier Pusschel & Janine Breil (COP) and Remco van der Wijngaart (SCID) for their training and supervision of treatments and SCID-interviews. Thanks are due to Annie Hendriks and Annie Raven for their assistance during the study, Rosanne Janssen for all the help in electronic data collection, Marjolein van Hoek and COP-therapists for help in developing a treatment integrity instrument, and Erik Schouten for help in statistical analyses. We are also very thankful to all therapists, local research assistants and students that participate in this study over the years, as well as to all the coordinators who monitor the study at local sites. This research is funded by grant 945-06-406 from ZonMW, the Netherlands organization for Health Research and Development, awarded to Arnoud Arntz. Extra support for the trial is provided by the research institute Experimental Psychopathology (EPP), Maastricht University.
This article is published under license to BioMed Central Ltd. This is an Open Access article distributed under the terms of the Creative Commons Attribution License (
http://​creativecommons.​org/​licenses/​by/​2.​0
), which permits unrestricted use, distribution, and reproduction in any medium, provided the original work is properly cited.
Competing interests
The authors declare that they have no competing interests.
Authors' contributions
All authors participated in the design of the study. AA obtained funding for this study. All authors drafted, read and approved the final manuscript.