01.12.2017 | Research | Ausgabe 1/2017 Open Access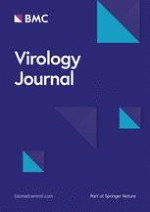 Detection and genome characterization of four novel bat hepadnaviruses and a hepevirus in China
Zeitschrift:
Autoren:

Bo Wang, Xing-Lou Yang, Wen Li, Yan Zhu, Xing-Yi Ge, Li-Biao Zhang, Yun-Zhi Zhang, Claus-Thomas Bock, Zheng-Li Shi
Abbreviations
RT-PCR
Reverse transcription polymerase chain reaction
Background
Methods
Samples
A total of 78 liver tissue samples were collected from dead bats caused by accident during sampling, which comprised two families, five genera, and 17 species, and used for virus screening (Table
2
). Different tissues (heart, liver, spleen, lung, kidney, brain and intestine) were collected separately and used for analyzing virus tissue tropism. The animals were firstly identified based on their morphology and then the species that they belonged to were further confirmed using DNA sequencing of the mitochondrial cytochrome b (
CytB
) gene following previously described methods [
12
].
Table 2
Detection of hepadnavirus and hepevirus in bats in China between 2008 and 2013
Family

Genus

Species

No. of samples

No. of hepadnavirus positive samples

No. of hepevirus positive samples

Sampling site (s) (year)

4

Yunnan (2008)

7

Yunnan (2008)

1

Hubei (2008)

12

1

Hubei (2011)

, Yunnan (2011)

3

Yunan (2009), Hubei (2011)

1

Yunnan (2011)

1

Henan (2010)

1

Yunnan (2012)

19

2

Hubei (2008/2011), Sichuan (2011),

3

Hubei (2011), Chongqing (2011)

7

2

Henan (2010), Hubei (2011)

Yunnan (2012/2013)

,

4

Yunnan (2012/2013)

1

Chongqing (2011)

2

Hubei (2010)

4

Sichuan (2011)

7

Yunnan (2013)

1

Yunnan (2011)

Total

5 genera

17 species

78

4

1
RNA extraction and PCR
RNA was extracted from tissue using the QIAamp Viral RNA Mini Kit (Qiagen, Hilden, Germany) following manufacturer's instructions, and cDNA was synthesized using Moloney Murine Leukemia Virus (M-MLV) Reverse Transcriptase (Promega, Madison, WI, USA). The extracted RNA from liver was tested by nested or heminested reverse transcription PCR (RT-PCR) using degenerate primers based on the conserved domain of the RNA-dependent RNA polymerase (RdRp) gene of viruses in the genus
Hepatovirus
, the polymerase gene of viruses in the family
Hepadnaviridae
, the RdRp gene of viruses in the genus
Hepacivirus
[
11
], and the RdRp gene of viruses in the family
Hepeviridae
[
7
] (Table
3
). Standard precautions were taken to avoid contamination of the PCR procedure, and no false-positives were observed in the negative controls. The PCR products underwent gel purification with MinElute Gel Extraction Kit (Qiagen, Germany) and they were sequenced with both forward and reverse primers using the 3100 Sequencer (ABI, Waltham, MA, USA).
Table 3
Primers used for virus RT-PCR screening and virus quantification
Primer

Sequence (5′-3′) a

Polarity

Targeted virus

Reference

HAV-3D-F1

CYTATHTRAARGATGAGCTKAGA

+

Hepatovirus

This study

HAV-3D-F2

ACRTCATCICCRTARCAIAGRA

+

HAV-3D-R1

RTCIAARACWAGRGCNATYG

-

HAV-3D-R2

TACCWAATCATRAATGGACT

-

HBV-pol-F1

TAGACTSGTGGTGGACTTCTC

+

Hepadnavirus

This study

HBV-pol-F2

AGTRAAYTGAGCCAGGAGAAAC

+

HBV-pol-R1

TGCCATCTTCTTGTTGGTTC

-

HBV-pol-R1

CATATAASTRAAAGCCAYACAG

-

BHV-1-F1

GTAGCGGAGAAGATGTATCTGGG

+

Hepacivirus

BHV-1-R1

GCCTTAGCCTTGAGAAAGCAGGTGAT

+

BHV-1-F2

GAGAAGATGTATCTGGGGGACGT

+

BHV-1-R2

AGAAAGCAGGTGATGGTATTGCC

+

BHV-2-F1

CCAAARGTWGTBAAGGCTGTGCT

-

BHV-2-R1

ACTTTGAKCCASGCAGTKARACAGTT

-

BHV-2-F2

GCTGTGCTSAAGGAMGAGTACGGCT

+

BHV-2-R2

CCASGCAGTKARACAGTTACTRGAG

-

DE-F4228

ACYTTYTGTGCYYTITTTGGTCCITGGTT

+

Hepevirus

DE-R4598

GCCATGTTCCAGAYGGTGTTCCA

-

DE-R4565

CCGGGTTCRCCIGAGTGTTTCTTCCA

-

BtHEV-qF

ATGTCCGTGTTCAGGTTCC

+

Bat hepevirus

This study

BtHEV-qR

GCCAACCCTCATTTGCAAC

-

BtHBV-qF

TGTTGGTTCTCCTGGATTGGAG

+

Bat hepadnaviruses

This study

BtHBV-qR

TGAAGGAATGGGCCAGCAGGTG

-
Genomic sequencing
The complete genomic sequences of one hepadnavirus strain and one hepevirus strain were amplified using PCR with degenerate primers (the primers are available upon request). The genome ends were amplified using a 5′-Full RACE Kit (TaKaRa, Japan). The PCR products underwent gel purification with MinElute Gel Extraction Kit (Qiagen, Germany) and they were sequenced with both forward and reverse primers using the 3100 Sequencer. The sequencing chromatograms were inspected for overlapping multicolor peaks, which are an indicator of sequence heterogeneity in the amplicons. The PCR products were cloned using the pGEM-T Easy Vector System (Promega, Germany) and at least three clones for each PCR fragment were sequenced to obtain a consensus sequence.
Sequence analysis
The preliminary sequence management and analysis were carried out using Geneious version 9.1.3 (Biomatters Ltd., Auckland, New Zealand) and the sequence alignment and editing were performed using MAFFT [
13
]. The phylogenetic analysis of hepadnavirus used the neighbor-joining (NJ) method with Hasegawa-Kishino-Yano substitution model and complete deletion option and hepevirus used the maximum-likelihood (ML) method with the nucleotide percentage distance substitution matrix and the complete deletion option in MEGA version 7 [
14
]. The sequences and GenBank accession numbers of the representative viruses in the families
Hepadnaviridae
and
Hepeviridae
used in the phylogenetic analyses are presented in Figs.
1
and
2
.
×
×
Quantification real-time PCR
Virus load of bat hepevirus and hepadnaviruese of different tissues was measured by using photometrically quantified in vitro RNA transcripts and specific real-time RT-PCR primers (Table
3
). Quantification was done by using 5 μL of RNA extract, 300 nM each primer, using the One Step SYBR PrimeScript™ PLUS RT-PCR Kit (TaKaRa, Japan). Cycling in a Biorad CFX Connect instrument involved the following steps: 42 °C for 5 min, 95 °C for 10 s, and 40 cycles of 95 °C 5 s and 60 °C 20 s with measurement of fluorescence.
Results
Conclusions and discussion
Since the discovery of genetically diverse hepatitis virus-related sequences in bats, bats have been considered to be important natural reservoirs for hepatitis viruses, and potential sources of human diseases [
10
]. However, these hypotheses need to be proved by screening more bat samples from across the globe for hepatitis viruses. In this study, we screened for hepatitis viruses in bats from China and discovered four novel hepadnaviruses circulating in two species of horseshoe bat in Jinning city, Yunnan province and one hepevirus in the whiskered bat
M. davidii
in Xianning city, Hubei province. The full-length genomic sequences of one of the two hepadnaviruses from
R. sinicus
and the hepevirus from
M. davidii
were determined.
The phylogenetic analysis indicates that the bat hepadnavirus found in this study is closely related to roundleaf bat hepadnaviruses, which were discovered in Pu'er city, Yunnan province in 2011 [
9
], but shows remarkable divergence when compared to the African horseshoe bat, despite the fact that it was found in an Asian horseshoe bat. A similar phylogenetic relationship was found between hepadnaviruses from the African roundleaf bat and the African horseshoe bat [
6
], indicating the separate evolution of these viruses and their hosts.
Regarding the bat hepevirus, the phylogenetic analysis indicates that the known bat hepeviruses are highly divergent from other mammalian hepeviruses and that they form an independent branch in the family
Hepeviridae
. According to the latest proposal of the ICTV in 2016, amino acid distances of concatenated ORF1 and ORF2 (lacking hypervariable regions) greater than 0.088 could then act as threshold to demarcate intra- and inter- genotype distances [
15
]. The hepevirus detected in the whiskered bat,
M. davidii
, and that found in the German serotine bat,
E. serotinus
(the only reported bat hepevirus with a full-length genome) shared significant diversity from both nucleotide and amino acid levels, we propose that they can be grouped into the species
Orthohepevirus D
which is divided into two genotypes: D1 and D2.
Our results provide further evidence to support the theory regarding the long-term co-evolution of hepadnaviruses and hepeviruses with their hosts, and the theory that bats act as major natural reservoirs for these hepatitis viruses. Our results have limitations due to the small sample size used, which was a result of the protection of bat populations in China, as bats play important roles in the pollination of plants and in pest control, as they feed on insects. However, based on our discovery of hepatitis viruses in bats, it is expected that there are many more hepatitis viruses circulating in numerous bat species and in various geographic regions. In order to obtain larger sample sizes, non-invasive methods of virus detection should be considered for future studies.
Acknowledgements
We appreciate Wei Zhang, Bei Li and Yu-Tao Gao (all Wuhan Institute of Virology, Chinese Academy of Sciences, Wuhan, China) for the excellent technical assistance.
Funding
This work was jointly funded by the National Natural Science Foundation of China (81290341), China Mega-Project for Infectious Disease (2014ZX10004001), the Scientific and Technological Basis Special Project (2013FY113500) and Funds for Environment Construction & Capacity Building of GDAS' Research Platform (2016GDASPT-0215). BW was supported by the China Scholarship Council (CSC), Beijing, China.
Availability of data and materials
Not applicable.
Authors' contributions
BW conducted the experiments and drafted the manuscript. X-LY, WL and YZ conducted molecular studies. BW, X-LY, X-YG, L-BZ, and Y-ZZ performed the sampling. L-ZS devised the study design and provided scientific oversight. The manuscript was revised by X-LY, C-TB, and L-ZS with input from all the contributing authors. All authors read and approved the final manuscript.
Competing interests
The authors declare that they have no competing interests.
Consent for publication
Not applicable.
Ethics approval and consent to participate
The study protocol was reviewed and approved by the Ethics Committee of the Yunnan Institute of Endemic Disease Control and Prevention. All the animals were treated in strict accordance with the Guidelines for the Use and Care of Laboratory Animals from the Chinese CDC and the Rules for the Implementation of Laboratory Animal Medicine (1998) from the Ministry of Health, China. The protocols followed for the use of the animals were approved by the National Institute for Communicable Disease Control and Prevention, China. All surgery was performed under ether anesthesia, and all efforts were made to minimize suffering.
Open Access
This article is distributed under the terms of the Creative Commons Attribution 4.0 International License (
http://​creativecommons.​org/​licenses/​by/​4.​0/​
), which permits unrestricted use, distribution, and reproduction in any medium, provided you give appropriate credit to the original author(s) and the source, provide a link to the Creative Commons license, and indicate if changes were made. The Creative Commons Public Domain Dedication waiver (
http://​creativecommons.​org/​publicdomain/​zero/​1.​0/​
) applies to the data made available in this article, unless otherwise stated.