05.12.2016 | Original Article | Ausgabe 2/2017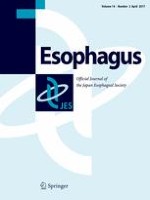 Detection and identification of pathogenic bacteria responsible for postoperative pneumonia after esophagectomy
Zeitschrift:
Autoren:

Keiichi Jimbo, Kazuhiko Mori, Susumu Aikou, Mitsuhiro Okazaki, Tomoaki Sato, Kyoji Moriya, Yoko Kawase-Koga, Yoshiyuki Mori, Yuki Kanno, Yukinori Yamagata, Koichi Yagi, Masato Nishida, Hiroharu Yamashita, Sachiyo Nomura, Yasuyuki Seto
Abstract
Background
Surgical complications occur frequently after radical esophagectomy and one of its most serious complications is postoperative pneumonia. Preoperative or postoperative bacteriological assessment may be useful in predicting, preventing, and managing postoperative pneumonia.
Methods
One hundred and five consecutive patients undergoing any procedure that included subtotal esophagectomy from October 2009 to March 2011 were the subject of this study. Culture materials (pharyngeal swab, nasal swab, dental plaque, tongue coating, gastric juice, and sputum) retrieved from the 105 esophageal cancer patients before, during, and after the surgery were comprehensively investigated for an association with postoperative pneumonia.
Results
Twenty-one patients out of 105 (20%) were retrospectively diagnosed with postoperative pneumonia. The investigated culture studies were associated with the occurrence of postoperative pneumonia in only one respect: positive detection of pathogens in postoperative endotracheal sputum was associated with marginally increased pneumonia (
P
= 0.053). Among the 21 pneumonia patients, pathogens were frequently detected in gastric juice retrieved on the first postoperative day (8 out of 14) and postoperative endotracheal sputum (13 out of 17). The putative pathogens of postoperative pneumonia were detected in 7 out of 8 gastric juice specimens and 9 out of 11 in sputum.
Conclusions
Postoperative pneumonia could not be predicted by either preoperative or postoperative bacteriological studies. In the patients with postoperative pneumonia, the postoperative bacterial culture of the gastric juice and sputum may be useful in identifying the causative organisms of postoperative pneumonia and, thus, in selecting appropriate antibiotics.