01.12.2016 | Research | Ausgabe 1/2016 Open Access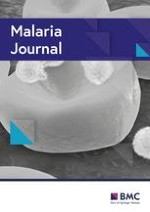 Detection of
Plasmodium

using filter paper and nested PCR for patients with malaria in Sanliurfa, in Turkey
Zeitschrift:
Autoren:

Nebiye Yentur Doni, Fadile Yildiz Zeyrek, Adnan Seyrek
Abstract
Background
The objective of this study to detect
Plasmodium
and a subspecies of
Plasmodium
using filter paper in malaria endemic province, Sanliurfa, in Turkey, compare the results of nested PCR (nPCR) with microscopy for the diagnosis of malaria and present the epidemiological data of malaria.
Methods
This study was carried out in malaria-endemic Sanliurfa between 2008 and 2011. Finger prick blood samples, thick and thin Giemsa-stained blood smears, were collected from 153 malaria-suspected farmworkers. The Giemsa-stained blood smears were examined microscopically. The obtained DNA products, extracted from blood-spotted filter papers or from the thick blood smears, were analysed by nPCR to amplify the 18S ssrRNA
Plasmodium
gene with genus and specific primers. The results of the microscopy were compared to the nPCR results.
Results
Of the specimens, 7.2 % were determined as
Plasmodium
-positive by microscopy, whereas 9.8 % were determined as
Plasmodium
-positive by nPCR. Of the positive
Plasmodium
specimens, 93.33 % were identified as
P. vivax
. Four out of the 15 specimens that were microscopically diagnosed as negative were
Plasmodium
-positive with nPCR. When compared to the microscopy, the sensitivity, specificity, and positive predictive values of the nPCR were determined as 100, 97.2 and 73.3 %, respectively. nPCR was determined to be more sensitive and specific than microscopy.
Conclusions
This study revealed that the accurate diagnosis of malaria by nPCR was compulsory in malaria-endemic Sanliurfa and nPCR should be applied routinely in laboratory studies.