01.09.2009 | Clinical Article | Ausgabe 9/2009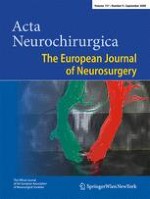 Detection of tumour invasion into the pyramidal tract in glioma patients with sensorimotor deficits by correlation of 18F-fluoroethyl-
L

-tyrosine PET and magnetic resonance diffusion tensor imaging
Zeitschrift:
Autoren:

Andreas Stadlbauer, Esther Pölking, Olaf Prante, Christopher Nimsky, Michael Buchfelder, Torsten Kuwert, Rainer Linke, Marc Doelken, Oliver Ganslandt
Wichtige Hinweise
A. Stadlbauer and E. Pölking contributed equally to this study.
Comments
The authors contribute a nice study which supports the growing information about the value of FET-PET to detect more precisely the true volume of a glioma. However, within a very small cohort of cases they mix low and high grade gliomas which of course had to be analyzed separately.
J.C. Tonn
Munich, Germany
Comment
This is a clear and well written article on the correlation of FET-PET and DTI tractography findings in the pyramidal tract in the presence or absence of symptoms of pyramidal tract involvement by grade II-IV gliomas. It is important that glioma surgeons extend intraoperative localization of eloquent areas from the cortex to the white matter tracts below. Identification of white matter tracts by electrical stimulation is most comprehensive in awake patients (1), but at least corticospinal connections can also be identified in anesthetized patients, in the absence of neuromuscular blocade, by EMG responses from face and limb muscles.
References
1. Duffau H, Peggy Gatignol ST, Mandonnet E, Capelle L, Taillandier L. Intraoperative subcortical stimulation mapping of language pathways in a consecutive series of 115 patients with Grade II glioma in the left dominant hemisphere. J Neurosurg 2008;109:461–71.
Juha E Jaaskelainen
Kuopio, Finland
Abstract
Purpose
Standard magnetic resonance imaging (MRI) does not depict the true extent of tumour cell invasion in gliomas. We investigated the feasibility of advanced imaging methods, i.e. diffusion tensor imaging (DTI), fibre tracking and
O
-(2-[
18
F]-fluoroethyl)-
L
-tyrosine (
18
F-FET) PET, for the detection of tumour invasion into white matter structures not visible in routine MRI.
Methods
DTI and fibre tracking was performed on ten patients with gliomas, WHO grades II-IV. Five patients experienced preoperative sensorimotor deficits. The ratio of fractional anisotropy (FA) between the ipsilateral and contralateral pyramidal tract was calculated. Twenty-one stereotactic biopsies from five patients were histopathologically evaluated for the absolute numbers and percentages of tumour cells. 18F-FET PET scans were performed and the bilateral ratio [ipsilateral-to-contralateral ratio (ICR)] of 18F-FET-uptake was calculated for both cross-sections of pyramidal tracts and biopsy sites.
Results
The FA ratio within the pyramidal tract was lower in patients with sensorimotor deficits (0.61–1.06) compared with the FA ratio in patients without sensorimotor deficits (0.92–1.06). In patients with preoperative sensorimotor deficits, we found a significantly (
p
 = 0.028) higher ICR of
18
F-FET uptake (1.01–1.59) than in patients without any deficits (0.96–1.08). The ICR of
18
F-FET-uptake showed a strong correlation (
r
 = 0.696,
p
 = 0.001) with the absolute number of tumour cells and a moderate correlation (
r
 = 0.535,
p
 = 0.012) with the percentage of tumour cells.
Conclusions
Our data show an association between preoperative sensorimotor deficits, increased 18F-FET uptake and decreased FA ratio in the pyramidal tract. We demonstrated a correlation between tumour invasion and 18F-FET uptake. These findings may help to distinguish between edema versus tumour-associated neurological deficits and could prevent the destruction of important structures, like the pyramidal tract, during tumour operations by allowing more precise preoperative planning.