01.12.2018 | Research article | Ausgabe 1/2018 Open Access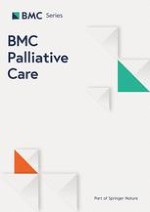 Determinants of favorable or unfavorable opinion about euthanasia in a sample of French cancer patients receiving palliative care
Zeitschrift:
Autoren:

Alexandre de Nonneville, Théo Chabal, Anthony Marin, Jean Marc La Piana, Marie Fichaux, Véronique Tuzzolino, Florence Duffaud, Pascal Auquier, Augustin Boulanger, Karine Baumstark, Sébastien Salas
Wichtige Hinweise
Electronic supplementary material
Alexandre de Nonneville and Théo Chabal contributed equally to this work.
Abstract
Background
Opinion about euthanasia has been explored among the general population and recently in patients receiving palliative care. 96% of the French population declared themselves in favor of euthanasia while less of 50% of palliative care patients are. The aim of the present study was to explore and identify potential determinant factors associated with favorable or unfavorable opinion about euthanasia in a French population of cancer patients receiving palliative care.
Methods
We performed a cross-sectional study among patients in two palliative care units. Eligible patients were identified by the medical staff. Face-to-face interviews were performed by two investigators. Two groups were defined as favorable or unfavorable about euthanasia according to the answer on the specific question about patient opinion on euthanasia. A multivariate analysis including age, belief in God, chemotherapy and gender was built.
Results
Seventy-eight patients were interviewed. Median age was 60.5 years (range: 31–87.2). In univariate analysis, patients with a favorable opinion were most often under 60 years old (62 versus 38% unfavorable;
p = 0.035
), in couple (64 versus 35%;
p = 0.032
), didn't believe in God (72 versus 28% were non-believers;
p < 0.001
) and had more frequently an history of chemotherapy treatment (58 versus 42% received at least one cycle of chemotherapy;
p = 0.005
). In a multivariate analysis, age <  60 years, absence of belief in God and an antecedent of chemotherapy were independently associated with a favorable opinion about euthanasia (OR = 0.237 [0.076–0.746];
p = 0.014
, OR = 0.143 [0.044–0.469];
p = 0.001, and
OR = 10.418 [2.093–51.853];
p = 0.004,
respectively).
Conclusion
We report here determinants of opinion about euthanasia in palliative care cancer patients. Thus, young patients who do not believe in God and have a history of chemotherapy treatment are more likely to request the discontinuation or restriction of their treatment. A better understanding of these determinants is essential for the development of information and/or interventions tailored to the palliative context.