01.12.2014 | Study protocol | Ausgabe 1/2014 Open Access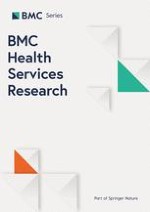 Determinants of health after hospital discharge: rationale and design of the Vanderbilt Inpatient Cohort Study (VICS)
Zeitschrift:
Autoren:

Abby G Meyers, Amanda Salanitro, Kenneth A Wallston, Courtney Cawthon, Eduard E Vasilevskis, Kathryn M Goggins, Corinne M Davis, Russell L Rothman, Liana D Castel, Katharine M Donato, John F Schnelle, Susan P Bell, Jonathan S Schildcrout, Chandra Y Osborn, Frank E Harrell, Sunil Kripalani
Wichtige Hinweise
Electronic supplementary material
The online version of this article (doi:
10.​1186/​1472-6963-14-10
) contains supplementary material, which is available to authorized users.
Competing interests
Dr. Kripalani is a consultant to and holds equity in PictureRx, LLC, which has no role in the design or performance of this study.
Authors' contributions
Conception and design (AGM, AS, KAW, CC, EEV, KMG, CMD, RLR, LDC, KMD, JFS, SB, JSS, CYO, FEH, SK); acquisition, analysis, and interpretation of data (CC, KMG, JSS, SK); drafting of manuscript (AGM, AS, KAW, CC, EEV, JSS, SK); critical revision of manuscript (AGM, AS, KAW, CC, EEV, KMG, CMD, RLR, LDC, KMD, JFS, SB, JSS, CYO, FEH, SK). All authors read and approved the final manuscript.
Abstract
Background
The period following hospital discharge is a vulnerable time for patients when errors and poorly coordinated care are common. Suboptimal care transitions for patients admitted with cardiovascular conditions can contribute to readmission and other adverse health outcomes. Little research has examined the role of health literacy and other social determinants of health in predicting post-discharge outcomes.
Methods
The Vanderbilt Inpatient Cohort Study (VICS), funded by the National Institutes of Health, is a prospective longitudinal study of 3,000 patients hospitalized with acute coronary syndromes or acute decompensated heart failure. Enrollment began in October 2011 and is planned through October 2015. During hospitalization, a set of validated demographic, cognitive, psychological, social, behavioral, and functional measures are administered, and health status and comorbidities are assessed. Patients are interviewed by phone during the first week after discharge to assess the quality of hospital discharge, communication, and initial medication management. At approximately 30 and 90 days post-discharge, interviewers collect additional data on medication adherence, social support, functional status, quality of life, and health care utilization. Mortality will be determined with up to 3.5 years follow-up. Statistical models will examine hypothesized relationships of health literacy and other social determinants on medication management, functional status, quality of life, utilization, and mortality. In this paper, we describe recruitment, eligibility, follow-up, data collection, and analysis plans for VICS, as well as characteristics of the accruing patient cohort.
Discussion
This research will enhance understanding of how health literacy and other patient factors affect the quality of care transitions and outcomes after hospitalization. Findings will help inform the design of interventions to improve care transitions and post-discharge outcomes.