08.06.2021 | Reports of Original Investigations | Ausgabe 8/2021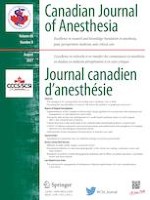 Determinants of pain assessment documentation in intensive care units
Autoren:

RN, BASc, MSc(A) Jenna L. Morris, MD, FRCPC, FNCS Francis Bernard, RN, PhD Mélanie Bérubé, MD, MA, FRCPC Jean-Nicolas Dubé, RN, PhD Julie Houle, MD, FRCPC Denny Laporta, MD, MSc, FRCP, FACP Suzanne N. Morin, MSc, PharmD Marc Perreault, BPharm, PhD David Williamson, RN, PhD Céline Gélinas
Wichtige Hinweise
Publisher's Note
Springer Nature remains neutral with regard to jurisdictional claims in published maps and institutional affiliations.
Abstract
Purpose
The underassessment of pain is a major barrier to effective pain management, and the lack of pain assessment documentation has been associated with negative patient outcomes. This study aimed to 1) describe the contextual factors related to pain assessment and management in five Québec intensive care units (ICUs); 2) describe their pain assessment documentation practices; and 3) identify sociodemographic and clinical determinants related to pain assessment documentation.
Methods
A descriptive-correlational retrospective design was used. Sociodemographic data (i.e., age, sex), clinical data (i.e., diagnosis, mechanical ventilation, level of consciousness, severity of illness, opioids, sedatives), and pain assessments were extracted from 345 medical charts of ICU admissions from five teaching hospitals between 2017 and 2019. Descriptive statistics and multiple linear regression were performed.
Results
All sites reported using the 0–10 numeric rating scale, but the implementation of a behavioural pain scale was variable across sites. A median of three documented pain assessments were performed per 24 hr, which is below the minimal recommendation of eight to 12 pain assessments per 24 hr. Overall, pain assessment was present in 70% of charts, but only 20% of opioid doses were followed by documented pain reassessment within one hour post-administration. Higher level of consciousness (β = 0.37), using only breakthrough doses (β = 0.24), and lower opioid doses (β = −0.21) were significant determinants of pain assessment documentation (adjusted R2 = 0.25).
Conclusion
Pain assessment documentation is suboptimal in ICUs, especially for patients unable to self-report or those receiving higher opioid doses. Study findings highlight the need to implement tools to optimize pain assessment and documentation.