29.07.2017 | Original Article | Ausgabe 1/2018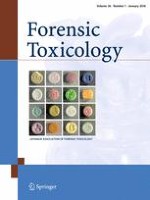 Determination of ricin intoxication in biological samples by monitoring depurinated 28S rRNA in a unique reverse transcription-ligase-polymerase chain reaction assay
Zeitschrift:
Autoren:

Ofir Israeli, Reut Falach, Anita Sapoznikov, Yoav Gal, Ohad Shifman, Sharon Ehrlich, Moshe Aftalion, Adi Beth-Din, Chanoch Kronman, Tamar Sabo
Wichtige Hinweise
Ofir Israeli and Reut Falach contributed equally to this work.
Abstract
Purpose
Type II ribosome inactivating proteins (RIPs II) such as ricin, exert their cytotoxic effect by depurinating a specific adenosine within the 28S rRNA, which in turn leads to inhibition of protein synthesis and cell death. Therapeutic intervention in case of exposure to RIP II toxins, requires the development of a specific and sensitive method for the detection of the active toxin in biological samples. Here, we describe the development of a highly sensitive assay for the detection of ricin, based on the biological activity of the toxin.
Methods
We exploited the fact that, when ricin-induced depurinated 28S rRNA serves as a template in a reverse transcription reaction, cDNA elongation is prematurely terminated at the depurinated site, leading to the formation of truncated cDNA molecules. To allow specific amplification of the truncated cDNA, an unrelated synthetic single strand DNA molecule was appended to its 3′ end. This chimeric ligation product was then amplified in a quantitative real-time polymerase chain-reaction, utilizing a pair of primers, one complementing its truncated cDNA sequence, and the other complementing its synthetic single strand DNA sequence.
Results
The unique method described here detected ricin at concentrations as low as 5 pg/mL within 5 h, allowed toxin identification in biological samples from pulmonary-intoxicated mice and pigs even when collected at late time-points (30–72 h) and was also found to be highly effective in detecting ricin after intraperitoneal exposure.
Conclusions
The method developed in this study is well-suited for detecting catalytically-active ricin in biological samples.