10.10.2018 | Original Paper | Ausgabe 5/2019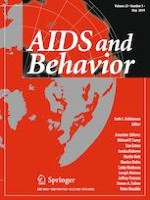 Determining the Roles that Club Drugs, Marijuana, and Heavy Drinking Play in PrEP Medication Adherence Among Gay and Bisexual Men: Implications for Treatment and Research
Zeitschrift:
Autoren:

Christian Grov, H. Jonathon Rendina, Steven A. John, Jeffrey T. Parsons
Abstract
Researchers have established that substance use interferes with anti-retroviral medication adherence among gay and bisexual men (GBM) living with HIV. There is limited parallel examination of pre-exposure prophylaxis (PrEP) adherence among HIV-negative GBM. We conducted retrospective 30-day timeline follow-back interviews and prospective semi-weekly diary data for 10 weeks with 104 PrEP-using GBM, half of whom engaged in club drug use (ketamine, ecstasy, GHB, cocaine, or methamphetamine)—generating 9532 days of data. Participants reported their day-by-day PrEP, club drug, marijuana, and heavy alcohol use (5 + drinks in one sitting). On average, club drug users were no more likely to miss a dose of PrEP than non-club drug users (
M
 = 1.6 doses, SD = 3.0, past 30 days). However, we found that club drug use (at the event level) increased the odds of missing a dose on the same day by 55% and the next day (e.g., a "carryover effect") by 60%. Further, missing a dose on one day increased the odds of missing a dose the
following
day by eightfold. We did not identify an event-level effect of marijuana use or heavy drinking on PrEP adherence. Our data suggest club drug users could have greater protective effects from daily oral or long-acting injectable PrEP compared to a time-driven PrEP regimen because of the concurrence of club drug use and PrEP non-adherence.